This is the list of the 9 best free yoga classes online to help you get into a yoga routine. (Especially you want to stay healthy during social distancing)
While there are tons of free yoga options available, you do need to dig a little bit deeper to find the best classes that fit your need.
Youtube might be the first platform you think of when looking for free online yoga resources. However, it is not easy to filter out videos and the teachers that you like. Yoga websites are better organized and easier to track your yoga progress but videos are secured behind paid membership. Yoga apps offer plenty of options for a customizable plan which hides in-app purchases.
(There is no free lunch.)
In this list, you will find youtube channels that feature high-quality yoga classes. Yoga websites, and apps that offer free yoga videos with a minimum of a 3-weeks trial.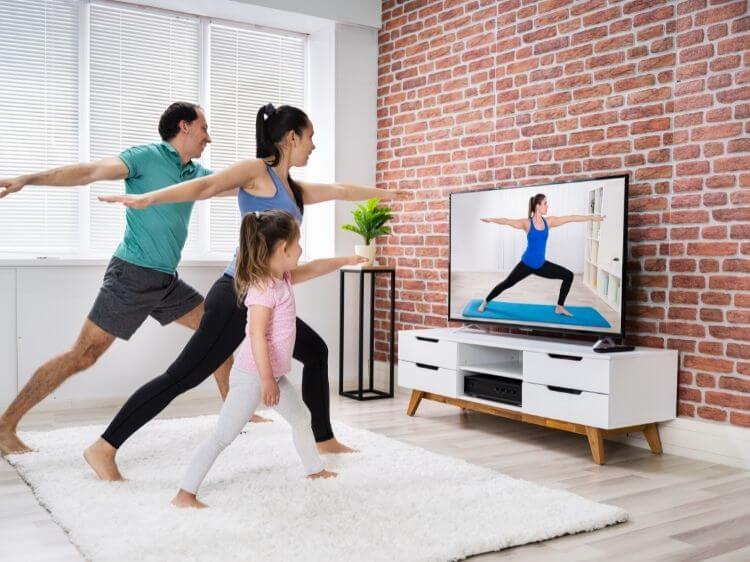 #1. Best overall: Doyoygawithme
Doyogawithme is a great website where you can find hundreds of free yoga online classes without signing up. The site offers a wide range of yoga classes from beginner to advanced levels. With a great variety of instructors and yoga styles to choose from.
Founded by David Procyshyn with the aim to provide free high-quality online yoga accessible to everyone. Almost half of the content on the site is free. The site survives through donations and paid subscriptions that come with an affordable price of $10/month.
You will find it is very easy to search and filter videos with this website. It allows you to choose videos based on difficulties, style, length, teacher.
If you don't have any idea which instructor to start with. Here are few suggestions
Besides yoga and meditation classes, there are short tutorials on yoga poses and breathing techniques.
While there are plenty of free videos in the free plan. If you want more advanced classes and challenges programs go for the paid option, it is totally worth it.
Great for: Yogis of all levels looking for quality instructions on yoga, extend knowledge on yoga posture.
#2. Best for beginner: Yoga with Adriene
If you just starting out with Yoga, have a look at free yoga videos in Yoga with Adriene on Youtube. Her online community is the most popular yoga channel with 10M subscribers at the time of writing. With the mantra "Find what feels good", Adrien's friendly approach encourages you to take your time to be mindful in your poses and breathing.
Another reason why this channel getting popular is that she hosts 30 days free yoga program every month starting from 2018. Majority of the class are 20-30 mins lengths and she occasionally throws in a few 45-50 mins classes. Each month's program bases on a specific theme (BREATH, PROCESS, MOVE). A monthly yoga calendar available on her website free of cost makes it easy for you to track your classes.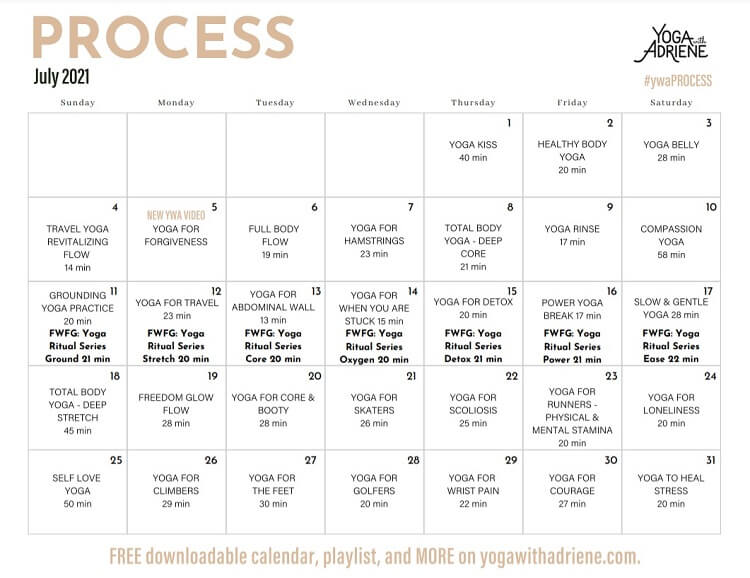 Adriene Mishley loves to smile and laugh during her practice so you may feel like doing yoga with a friend.
Great for: Beginners who want to build a routine for a daily yoga practice.
#3. Best for creative flows: Five Parks Yoga
Why most of the free online yoga classes are beginner and intermediate levels. It is not often seen YouTubers offer advanced hour-long sequence target peak poses like Erin Sampson from Five Parks Yoga. There is playlist of 60-75 mins long video that designs to help you get into challenging poses. Like Flying pigeon, bird of paradise, handstand, and many more. And the good things all are available for free. (Erin does receive support via donation and host yoga retreat in the jungle of Costa Rica)
Erin's style is straightforward with clear instruction. Flows are creative and tend to be stronger than most others, focus more on breath and movement than alignment.
Great for: Intermediate level looking for creative and advanced flows.
#4. Best for minimal cues: Yoga with Kassandra
Yoga with Kassandra on Youtube is another great resource for free online Vinyasa and Yin Yoga. Her channel is very well-organized, easy to browse through her huge collection of yoga videos. Classes range from short 10 mins classes to 60 mins long.
You can browse classes by style (Yin, Vinyasa, Vin to Yin), length (5 to 90 mins), and by level (beginner, intermediate, advanced).
Kassandra has a very clear voice and instruction, she doesn't talk much so you don't have to look at the screen when doing yoga with her. The calendar features are accessible only for members.
Great for: Yogis want to practice minimal cues classes
#5. Best for advanced classes: Kino Yoga
Kino Macgregor is a world-famous yoga instructor, author of several books. Kino's channel features free video for long-hour practice focus on Ashtanga, Yin, and Vinyasa style. her classes tend to make you hold the pose longer than other teachers on this list.
If you are looking for step-by-step tutorials on how to do advanced yoga poses, Kino's channel is a great resource. Check out short tutorials on 21 days journey to handstand, 10 days arm balance basic, yoga splits challenge.
She adds several 30 days challenges on Ashtanga for newbies, meditation, and yoga for beginners.
Great for: Learn from amazing Ashtanga teacher with enormous free content available.
#6. Best for motivation: Fightmaster Yoga
Yoga work teacher Leslie Fightmaster is one of the most loved yoga teachers in online community. Her soothing voice felt like hugs and she is very good at motivating students to get into yoga practice (If you can't do some poses you are still a good person 😊)
Lesley's contents are for all abilities from beginner to advanced levels. You can jump into her 90-day fix to get back into an everyday habit. It can be tough with Chaturanga or headstand poses but you will gain lots of strength and flexibility by the end of the journey. She always offers tips on modification if you can't do the pose. She does have several 30-day programs that are more friendly to beginners.
Fightmaster is no longer with but her huge collection of free yoga videos are still available.
Great for: At-home yogi who want to start yoga or get back into a yoga routine.
#7. Best for fundamental: Yoga with Tim
Tim Sensei's free yoga workout classes are a great choice if you want to focus on alignment. And want to know how to activate your core muscle on holding poses to get stronger.
You can join Tim's 30-day challenge to build a solid foundation for your home practice. Most of his free content on youtube is 30-45 mins length, and paid courses are 60 mins long. He has beginner series, detox series divided by weeks as well.
As Tim focuses on doing few poses well in a moderate-paced sequence, so you may feel the pose get repeated. But, I found that I keep coming back to Tim's videos because I feel so good after his classes.
Great for: Yogi of all levels who want to extend knowledge on alignment and engage your core muscle.
#8. Best for teachers: Yoga International
Yoga International offers courses and classes targeted at yoga enthusiasts and teachers. You can learn from hundreds of high-quality instructors with so many different types of yoga. Hatha, Yin, Kundalini, Vinyasa, Iyengar, Ashtanga, Yoga Therapy, and many more.
YI paid subscription allows access to hundreds of classes with new content on daily basis. There are tons of available resources for different levels and class lengths to maximize your learning. And courses to deepen your practice and track your goal and progress with their recommendation classes.
You can sign up for Yoga international 30 days free trial. Look for classes based on your goals such as extensive knowledge on meditation or core strength yoga. Check deals they offer to get half price on courses.
Great for: Sharpen your yoga skills based on the goal.
#9. Best for a customized plan: Down Dog app
Down Dog app is amazing with so many options available with the free version. You can customize your practice length, style, difficulty, pace, voice, music and the app randomizes a new sequence of flows for you. Which means you get different yoga workout each time with the same settings so it keeps the classes fresh and exciting. You can also focus on a particular area such as the core, hamstrings, hip, or what you want in your practice. It does create more challenging flows.
The app is user-friendly, easy to access on multiple devices, and saves you time from searching the classes to practice with. Paid for pro-membership to get access to more options. The downside of the app is you have no interaction with teachers and can't know what poses inside the session.
Great for: Customizable asana practice based on your choice without spending too much time searching the class.
The bottom line
With the list of the 9 best free online yoga classes, you know that you don't need to spend a fortune on yoga classes. I hope this list will help you find what's right for your practice and budget!
Which one do you plan on trying? Let me know below so I can share it with our readers too. And if none of them appeal to you, check another blog post where I cover 19 Best yoga on youtube.