When yoga pants and leggings are mentioned in the same sentence, it is easy to get lost in a debate on what they actually mean.
The truth is that yoga pants and leggings both refer to form-fitting pants that are made to be comfortable and versatile. However, there are some distinctions between the two.
In this article, we will go over the main differences between yoga pants and leggings so you can make an informed decision about which one you should buy!
Yoga pants vs leggings
The main difference between yoga pants and leggings is that yoga pants are made to be more fitted, have thicker fabric and a wider waistband, which makes them more comfortable to wear during yoga or other fitness activities.
Leggings, on the other hand, are typically tighter, thinner fabric. Leggings are not usually designed for the same level of comfort or range of motion that yoga pants offer.
Leggings don't endure the same pressures as workout pants. In order to distinguish leggings from yoga pants, you might try a downward dog or squat test. When stretched, some thin leggings may become see-through.
With new clothing styles appearing every day, both categories have multiple variations. The distinction between these has never been more blurred. Athletic leggings are a type of yoga pants that are thinner and intended for exercise and stretching.
Yoga pants and activewear leggings are the way to go if you want to wear clothing that is both versatile and comfortable for physical activity. If you want something tighter and more form-fitting for everyday use, normal leggings may be a better alternative.
What are Leggings?
Leggings are a type of clothing that resembles skin-tight pants and are made of stretchy fabric. They are made from a variety of materials, including cotton, wool, synthetic fibers, or a blend of materials.
For many years, leggings have been worn as a garment underneath skirts, dresses, and enormous long pullovers to keep warm in the cold weather. Legging designs are now available as an option for traditional pants because they are more comfortable than they used to be. They become a must-have clothing item in any ladies' wardrobe.
Material of Leggings
Leggings can be produced from a variety of fabrics, including cotton, polyester, Faux Leather, wool, and a mix of these materials.
Cotton Legging
Cotton leggings are a popular choice for casual wear. The great thing about cotton leggings is that they are soft. They are made of a fabric that is comfortable and breathable. The problems with cotton leggings are: if you stretch them, they do not last as long; and if you sweat a lot, the fabric does not breathe well enough.
Polyester Legging
Polyester leggings are water-resistant and sweat-wicking but It smells easy.
Nylon Legging
Nylon is a fantastic fabric for leggings. It's quite durable and doesn't wrinkle easily. It's also light and simple to maintain. However, it does shrink from time to time, so pay attention to the washing and drying instructions on the leggings you're thinking of buying.
Wool Legging
Wool leggings are both comfortable and durable. They retain heat well, making them ideal for wearing on a chilly winter day. They are in the higher price range as leggings go, but they are a worthwhile investment.
Leather Legging (Faux Leather)
Leather pants made from faux leather are often more expensive than other types of leggings. They offer a sleek, polished look and can be dressed up or down. However, they may be difficult to care for and require special cleaning attention.
Length of the leggings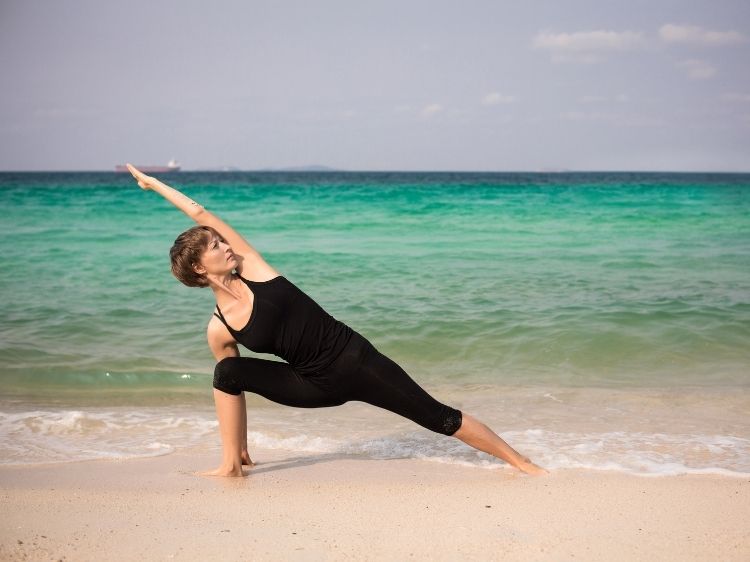 Leggings come in different lengths. There are full-length leggings, waist to ankle leggings, calf-length leggings, and footed leggings. You can find different lengths depending on what you're comfortable with.
Style of Leggings
There are many different styles of leggings on the market today from footless styles, footed styles, and stirrup style leggings.
Several different fit options are also available! Skin-tight, and looser fit. The more people work from home, the more looser fit legging becomes popular to wear as everyday leggings. Top up with a T-shirt and you're ready to go for a Zoom session.
You can find leggings made from all sorts of materials, in a variety of colors and styles.
Fashion Leggings
Design
Made of stretchy and thin fabric, designed for breathability and comfort. They often come with various designs including animal prints, polka dots, or plain solid colors that can match any outfit perfectly well.
Style
Fashion leggings are designed to be tight and form-fitting. They can be worn in a variety of ways to create different looks. For a more casual look, pair them with a loose-fitting top and sneakers. For a more dressy look, wear them with a blazer or dress shirt. No matter how you choose to style them, fashion leggings will always add some flair to your outfit.
Activewear Leggings
Design
Performance focus leggings made from moisture-wicking fabric that is breathable, and quick-drying. These leggings are designed for high-intensity workouts and have a more streamlined design that allows you to move freely during any activity.
They often come in solid colors but can also be found with different prints or patterns on them.
Style
Active leggings are a wonderful option for those who want to get their sweat on while still looking stylish.
They're great with sneakers or sports clothing like a sports bra and hooded sweatshirt for an athletic style that's ideal for the gym.
After exercising, add a jacket or peacoat. Alternatively, pair them with a loose-fitting top and sandals for a more laid-back appearance.
What are Yoga Pants?
Yoga pants are form-fitting, sweat-wicking, and stretchy pants that provide maximum comfort during yoga class. When you bend over or go into a squat, they will stay in place rather than fall down like other types of pants.
Yoga pants are made from thicker material than leggings, and they are worn casually as everyday wear.
They're somewhat more expensive, but depending on how often you wear them, they may last you many years.
Material of Yoga Pants
Yoga pants are usually made of cotton, bamboo, polyester, or nylon. A little amount of stretchy material like spandex or elastane (7%-10%) is used to make yoga pants move with comfort when practicing yoga, jogging, and working out.
Length of Yoga Pants
There are three different lengths of yoga pants: full-length, ankle-length calf-length, and bike short.
Style of Yoga Pants
Not all yoga pants are leggings. There are also yoga sweatpants, yoga tights, wide-leg yoga pants, yoga capris, and more. There are various yoga pants designed to meet the market demand.
How to wear yoga pants
Many women love wearing yoga pants for a casual day in, or even going out to the gym or yoga studio, or running in the park.
Yoga leggings: Can pair nicely with a blazer and a dress shirt. Also with oversized sweaters, denim jackets with sneakers for a more casual daytime look.
Yoga flared pants: Pair flared bottoms yoga pants with a form-fitting top to create a stylish look for a night out. You can also wear them with sandals to make it more comfortable.
Yoga capris: This can be worn with a pair of sandals or sneakers, and it's perfect for those who love running outside.
Concluding Thoughts:
Leggings and yoga pants may appear to be the same, but they are not. Yoga pants are designed to be more flexible than leggings. They're also constructed of performance-focused cloth, so you can move freely through complicated yoga poses without issue.
Leggings, on the other hand, are composed of thin and stretchy fabrics that allow them to be worn beneath a dress or tunic.
I hope this article gives some ideas on what makes the difference between leggings and yoga pants and how to wear them.
This blog article has some of the best yoga brands on the market if you want assistance selecting out the best yoga pants or leggings.