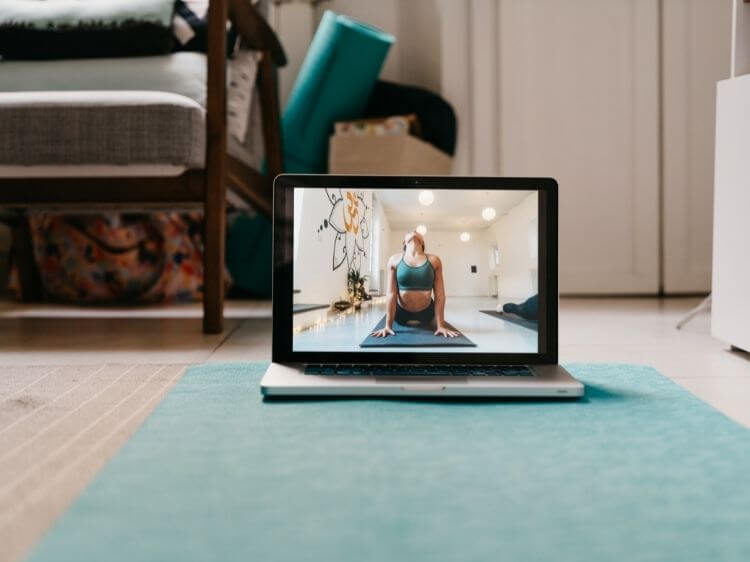 This is a list of the top 19 best yoga on YouTube. If you don't want to go through millions of videos to find a good yoga class for your home practice, this article is for you.
Because I enjoy practicing in a studio with other like-minded yogis, I was never a fan of online yoga. After moving to the region and being unable to locate a studio, I began looking for online classes on YouTube.
At first, I find it is difficult to find a decent class to commit to daily practice. But over time I save several best yoga on youtube that I can switch depending on how I feel.
So here is the list.
Travis Eliot
If you find it difficult to commit to hour-long online yoga practice? Then check out Travis Eliot's channel, one of the best yoga classes on Youtube. (I am his fan.)
Travis spent his life spreading the teachings of yoga and meditation. He is well-known for his Holistic Yoga Flow approach, which he developed himself.
He has the power to take your thought away and leave you to flow through your battle. A charisma that is difficult to find in other yoga instructors.
Try power yoga detox class, you'll understand why.
(WOW.) Smooth flows, calming voice, perfect instruction, words of wisdom, and beautiful music. The soul and body connect and move in harmony during the practice. And feel good and fit after the class.
In the channel, you find quality videos of Power Yoga, Yin Yoga, & Meditation. Fresh content updates every week.
Great for: Who wants to find the class that helps to connect with the soul and find new space in the body.
Yoga With Tim
Tim Sensei is a qualified yoga teacher. He was able to overcome his weight issues and develop a positive self-image through yoga. He shows deep compassion for yoga and is in love with Iyengar (focus, concrete, effective). With only 208k subscribers, Tim deserves more followers.
Tim gives detailed instructions on proper alignment, breaks down poses into easy steps to follow, and introduces variety for different levels. His voice is calm and clear. Designed sequences are smart, slow, and deep. You have time and pace enough for Vinyasa flow.
There are several 30-day challenges from 2019 through 2021 on the channel. The vast majority of the sessions last 30 minutes. In addition, there are additional series such as Body Mind & Spirit, detox, and beginner and meditation series. And how-to videos to assist you in inverting or arm balances posture or correcting your posture. Tim releases new videos everyweek.
Great for: Yogi of all levels who want to build a solid foundation for home practice.
Yoga with Kassandra
If you want to find yoga classes online that you can flow without looking at the screen? Yoga with Kassandra might be your choice.
Yoga with Kassandra is among the most popular yoga channel with 1.55M subscribers. There are hundreds of videos with various lengths from 5 to 90 minutes. Most of her classes are Yin and Vinyasa.
She's a no-nonsense, down-to-earth type who provides simple instructions and an excellent tone and voice. Her flow is more focused on stretching and going deeper into the posture.
Intermediate yogi loves her minimal cues class. Where she speaks only the name of the pose and leaves you to practice at your own time and pace.
Great for: Intermediate level looking for stretching and balancing practice.
Fightmaster Yoga
Yoga work teacher Lesley Fightmaster is an incredible teacher in Youtube community. Her motto is "yoga is not all about the pose and you don't have to be perfect".
She has a pleasant and empathetic voice that soothes her audience. She offers modifications that work for different levels. She is the reason why many people get into yoga. Lesley changed many people's lives, made a positive impact on this world, and inspire millions.
Lesley's generosity and kindness are shown in a massive library of 750 free yoga videos she shared. One of the best free classes on Youtube for all levels from beginner to advanced. Navigation is so easy. You can choose from Hatha to Vinyasa, from stretch to strength, from pain relief to stress relief. She prioritizes mental wellness above anything else.
Her yoga challenge is among the most popular (videos are 30-45 minutes each.) 30 days feel-good Hatha yoga series for beginners, 90 days yoga fix series for intermediate, and many more.
Great for: Beginner who wants to make positive changes in life or experience yogi who feel the need to join a community for frequent practice.
Brett Larkin Yoga
Brett Larkin is a 500-hour yoga expert. She teaches various types of Hatha, Vinyasa, Yin, Restorative, and Kundalini yoga. For you to figure out which one fits you best, she has created the "Find Your Style Yoga Challenge" in her channel.
She is one of the best yoga teachers I find on youtube. She has clear instruction, great breathing, and movement cues. Her voice has uplifting power which helps to spread positive vibe.
You want to wake up with energized vinyasa flow. Dive deeper into yourself with meditation. Loosen your tight muscle through stretching. Work your way to split. She provides several lessons and instructions to assist you along the way.
The channel has several playlists focus on detox yoga, kundalini yoga, yoga for busy people, yoga for advanced, and prenatal yoga.
Great for: If you want to find quality yoga videos on yoga & meditation.
Tara Stiles
Tara Stiles is one of the world-famous instructors. Her yoga teaching focus on freedom of movement (influence by Taichi) make you feel at ease. Her goal is to share yoga in an easy and accessible way with the people who are afraid of it. (By the way, she is personal instructor of Deepak Chopra.)
Her youtube channel has been active for more than 10 years. With some great videos for people of all levels and every goal. You can browse through "Get Strong," "Get Flexible," "Morning", "Bedtime" and "Prenatal".
If you are in a hurry try one of Tara Stiles Morning Yoga Fix to wake up your body. She has a soothing voice and good verbal cues, she leaves enough room and pace for you to move and "feel like you".
Great for: Anyone who wants to have a gentle yoga session without any rule.
Ekhart Yoga
One of the best educational yoga channels on youtube with more than 2000 videos. 50+ teachers and 20+ different styles. Some are 13 years ago!
The channel is well-organized you can easily browse videos
By focus: advanced poses, pain relief, weight loss, strength building, yoga anatomy.
By length: from 3 mins to full-length yoga class.
By style: Vinyasa, Hatha, Yin, Ashtanga, Restorative and Meditation
Content is fresh, and there are live classes with several teachers. But I like to practice with Esther Ekhart.
She is the founder of Ekhart Yoga, she has been teaching yoga internationally for over 20+ years. Her instruction is clear and approachable for both beginners and advanced yogi. Her voice is humble make you feel relax. (She is more about yoga than an Instagram star.)
Great for: Extend posture knowledge.
Kino Yoga
Kino MacGregor is a legend in Ashtanga community. Author of several yoga books, founder of Omstar, inspiring yogi. (Her channel is among the most popular with 750k subscribers and one of the best yoga on youtube.)
Browse through her videos, you'll see a huge collection of full-length yoga practices (Extensive Ashtanga).
There are a lot of tutorials where she breaks down things and guides you step by step on how to get into advanced poses.
Short on time? there are short videos from 10 to 20 minutes as well.
Want to begin with Ashtanga journey? there is 30 days yoga challenge.
Kino always has something new to show, she uploads new content every week.
Great for: Experience yogi who want to try new challenging poses or Ashtanga sequence.
DoYogaWithMe
DoYogaWithMe is a Yoga community with a simple goal "make yoga accessible for everyone". The channel has tons of videos for beginners and advanced.
You can browse various yoga teachers, choose your levels and decide how long you want to spend on your mat.
Most of the teachers are experienced, and they make online videos for a decade. You have plenty of choices:
Get your body hot and find your strength through a strong power class. Release tension for your muscle with deep stretch Hatha class. Make your heartbeat with sun salutation series, or get deep into your back bending. My favorite instructors are Fiji McAlpine, Rachel Scott, and David Procyshyn.
You might want to check out their website since it is the number one place to find free online yoga online.
Great for: Yoga for all ability, find what works best for you.
Ali Kamenova
Ali Kamenova creates her signature High Intensive Interval yoga focus on building strength. Her channel has tons of beginner through advanced videos. (new videos released weekly). The majority of videos range in duration from 30 minutes to a full 60 minutes.
Her yoga sequences make your heart rate increase, tone your muscle and build a strong foundation.
Great for: Intermediate level who want to find challenging yoga sequence for toning body.
Five Parks Yoga
Erin Sampson (Five Parks Yoga) has a great collection of videos from 10 minutes to full-length yoga practice. Many 60-75 minutes long classes are equivalent to studio one. Video settings are in the jungle of Costa Rica, so you can hear animal sounds (which is interesting).
The Channel offers a wide selection of classes, including high-energy ones and deep stretch yoga sessions. You can take class focus on a specific body area or a brief tutorial for advanced postures.
Erin has great creative routines, steady transitions, demanding flow, and excellent breathing cues. (Erin doesn't have a huge following yet her videos are of good quality.)
Great for: Intermediate level who love to flow.
Yoga With Adriene
Yoga With Adriene dominates youtube search engine with all sorts of yoga: yoga for weight loss, yoga for anxiety, bedtime yoga, morning yoga, yoga for runners, yoga for writers, and beyond.
No doubt her channel is the most popular yoga on youtube with more than 9.5M subscribers!
Adriene cues and descriptors are perfect for beginners. She encourages you to "find what feels good", stresses the importance of finding the unique expression of each pose, and makes the practice your own. Her voice is calm and friendly, making you feel like you're doing yoga with an old buddy.
This channel's settings allow you to set how long you wish to spend on your yoga mat. Whether it's a quick post-run session, nighttime winddown, or complete yoga routines, there are lots of options.
Beginners may utilize 30-day yoga journeys focused on "breath," "trust," "inquire," "home," and other similar themes.
New content on regular basics.
Great for: Beginner who wants to get started with yoga. (Not seriously)
SaraBeth Yoga
SaraBeth Yoga is one of the best youtube channels if you want to find short classes focus on a certain goal.
The channel is well-structured and simple to browse. Each video is between 3 and 30 minutes long, and it is color-coded. Pink for power yoga moves, light blue for vinyasa flow, deep blue for Hatha flow stretches, purple for relaxing Restorative yoga meditation
Choose a practice that works for you, such as prenatal yoga, business yoga, lunch break yoga, morning yoga, or bedtime meditation. Alternatively, try stretching activities like hip opener or back pain treatment that are highly focused.
Sarah jumps right into the sequence, with clear step-by-step instructions. She put visual of the modified pose alongside. Because videos are voice-over, you don't have to stop and watch the screen. Her tone is upbeat and encourages you to take better care of yourself by making you feel as if you're in the studio with your favorite instructor.
Weekly videos post on Friday.
Good for: Homies who have a goal in mind for a short practice.
YogaTX
Yoga TX is a great channel on YouTube. Offer free yoga videos for all levels of yogi, various styles, and different goals.
You can choose which instructors to practice with (depend on personal interest). Or take 30 days yoga challenge to connect deeper with yourself.
Cole Chance videos getting popular among these teachers for a good reason. She often recommends alternative variations, explains postures insight and how you should feel about the poses.
Good for: Feel comfort at-home yoga practice.
Candance Canbera
Candance is a 500 hours certified and international yoga teacher. She gets right to the point, effortlessly takes you into postures, and leads you through the sequence with a soothing voice.
Her channel contains a variety of different videos, from slower-paced light yoga to sweaty power vinyasa. (The majority of sequences are 15-30 minutes)
You can sort out yoga videos by length, for body part focus, or by style. She has many how-to videos which use gear for your practice: blocks, balls, chairs.
Good for: Who wants to find technical instruction for better alignment.
Boho Beautiful
A video of Boho Beautiful channel (Juliana and Mark) is inspiring because of their travel and yoga lifestyle video.
They shoot videos in scenic areas like sandy beaches, lakes, and mountains. They have strong enthusiasm for digital nomadism and aim to create a good yoga lifestyle, healthy vegan cuisine.
Great for: Looking for inspiration to start or develop your yoga journey.
PhyseTruth
Corrina Rachel creates the PhyseTruth channel. Which has been a one-stop destination for fitness, yoga, massage & nutrition.
The channel has high-quality video content, including yoga lessons, health suggestions, and fitness. Contributions from health coaches, yoga & fitness teachers, massage therapists, and doctors.
Great for: Beginner who wants a bit of everything.
Purple Valley Ashtanga Yoga
Purple Valley Ashtanga Yoga channel has a lot of resources for Ashtangi. Most of the classes are led by authorized Ashtanga teachers around the world. And film in the Purple Valley Ashtanga Yoga Retreat in Goa.
Several video demonstrations by Ashtanga masters like Kino, Laguna, David Robson.
Or if you want to learn more about asana, build strength, get into float there are short tutorials as well.
Great for: Yogi who want to practice fast-paced yoga and intense practice Ashtanga.
Sean Vigue Fitness
Male yogi might want to check out Sean Vigue Fitness. He has different stretching yoga videos that work for not flexible people.
Join 30 days of flexibility challenging program or take 10 mins for a quick fix for arm & shoulder workout.
Great for: Looking for a decent yoga routine for men.
2 weeks yoga workout plan
Here is my yoga two-week workout plan, which includes hand-picked videos from the best yoga youtube channel on the list above.
This plan combine yoga instructors that I practice with quite often. I tend to choose videos that have good sound quality so I don't have to stop to see the screen during practice.
Basically, I prefer 2 sessions of Power Yoga, 2 Vinyasas, 1-2 gentle styles like Hatha or Yin for a week.
2 weeks yoga workout plan
Whether you want to get into the habit of practicing yoga or are looking for a quick refresher, these 19 YouTube channels should be able to help. With over 1 billion hours of user-uploaded videos on Youtube, there's bound to be something that will suit your needs.
I hope this list helps you find what you need! Now go do some Yoga! But make sure you don't overdo it. Read more on how often should you do yoga.