The size of a yoga mat you require is based on your height. A yoga mat with a length of 68-71 inches (172-180 cm) is sufficient if you are under 5 feet 7 inches (170cm). However, if you're tall, consider buying a yoga mat with a length of 74 inches (188 cm) or higher.
A quick answer to the question of the yoga mat size you need (the taller you are, the longer the yoga mat).
| Your Height | Yoga Mat Width | Yoga Mat Length |
| --- | --- | --- |
| Under 5'7″ (170 cm or shorter) | 24″/26″ (60 cm/66 cm) | 68″/71″ (172 cm/180 cm) |
| From 5'7″ to 5'11" (170cm to 180 cm) | 24″/26″ (60 cm/66 cm) | 71″/72″ (180 cm/183 cm) |
| 5'11" or higher (180 cm or highter) | 26″/28″ (66 cm/71 cm) | 74″/79″/85″ (188 cm/200 cm/216 cm) |
Yoga mat size chart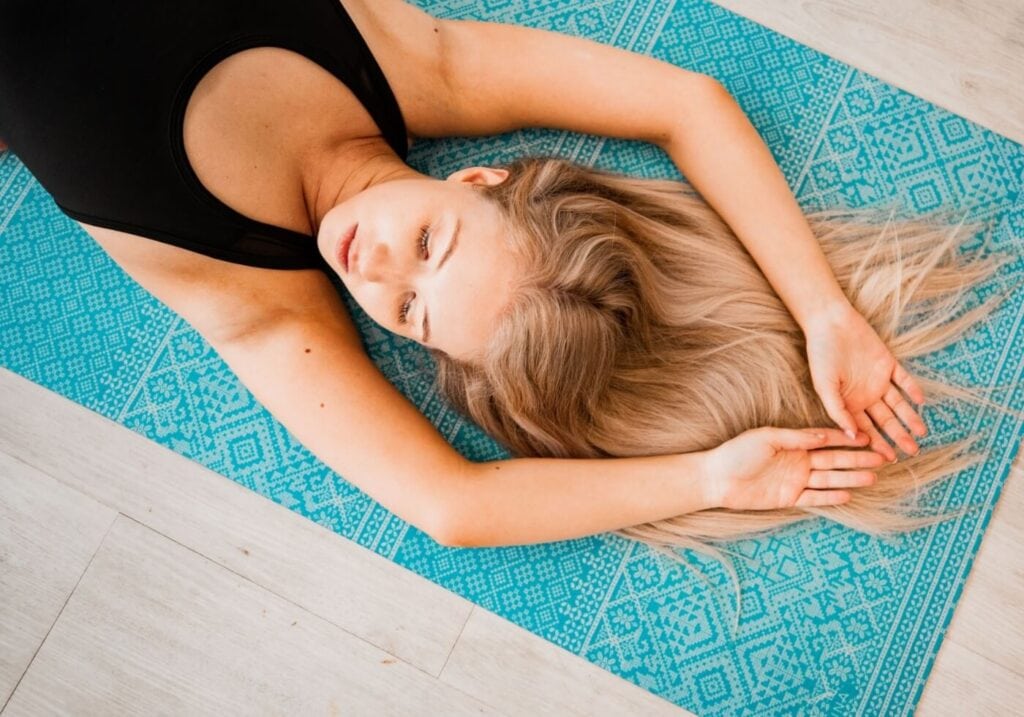 How long the yoga mat should be compared with your height?
A good rule of thumb is that the yoga mat should be at least 6 inches (15 cm) longer than your height to keep you off the floor so you can relax in Savasana comfortably. So if you are 5 feet 4 inches (163 cm) tall, you should get a mat with a length of at least 5 feet 10 inches (70 inches/178 cm).
However, if you're like me, you may need more room in your yoga mat (30 cm longer than your height) so that you don't have to put your chin on the carpet in Chaturanga while still being comfortable during savasana.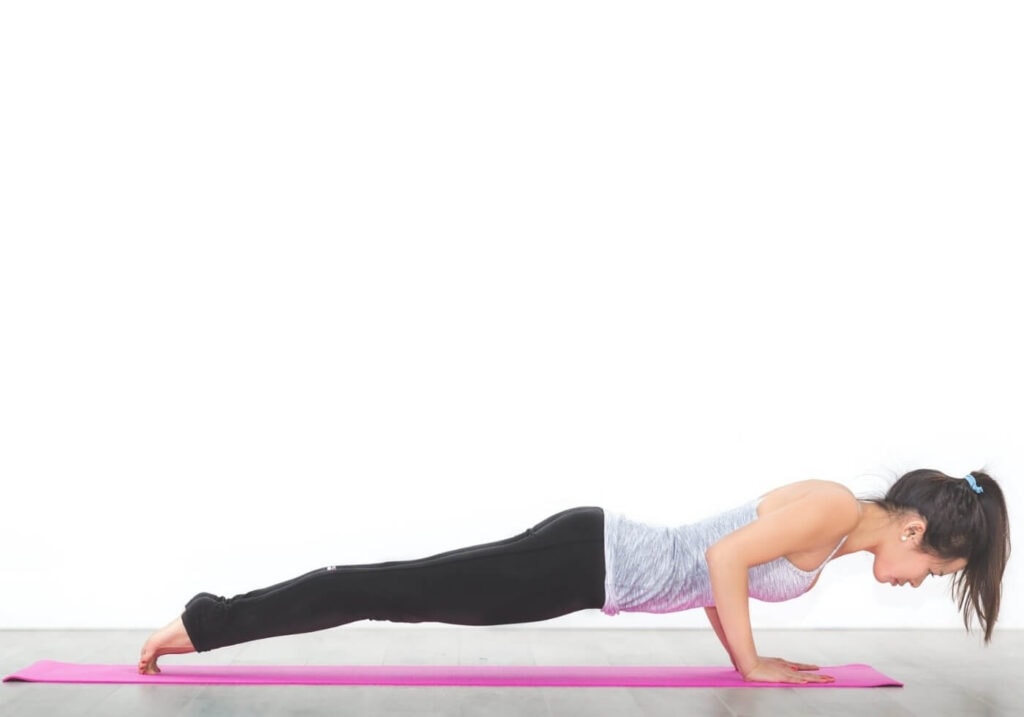 What is the standard size of a yoga mat?
The typical yoga mat is 68 to 71 inches long (172cm to 180 cm) and 24 to 26 inches wide (61-66 cm). It is 5'6″ to 5'9″ long when translated into feet. This is the size that works for most people as the average height is 5'3″ (163 cm) for women and 5'7″ (176.5 cm) for men. [1]
A standard yoga mat, on the other hand, may cause your foot to hang off the floor if you're taller.
What about other yoga mat sizes available on the market?
Some of the popular yoga mat brands in the market like Manduka or Jade makes yoga mat with extra long for tall people.
The Jade Harmony yoga mat has three length options of 68, 71, and 74 inches. And Manduka has a standard 71″ and extra-long 85″ for the Manduka Pro and 79″ for the eKo.
Majority of yoga mats are 24 to 26 inches. You can also find mats that are 28 inches like the Harmony XW or the Liforme mat 26.8 inches
Most standard yoga mats are suitable for children, however, there are some shorter ones for kids that have cute print or animal patterns. The Gaiam Kids Yoga Mat is 60 inches long, whereas the Scoria Cork Yoga Mat for kids comes with a 59-inch length and 23-inch wide.
| Brand | Length | Wide |
| --- | --- | --- |
| Gaiam Kids Yoga Mat | 60″ | 24″ |
| Scoria Kids Cork Yoga Mat | 59″ | 23″ |
| Jade Kids Natural Rubber | 44″ | 19″ |
3 KEY considerations when buying a yoga mat
Besides choosing the right yoga mat size there are other factors to consider when choosing a yoga mat.
#1. Thickness
When selecting a yoga mat, the thickness of the mat is crucial.
A thin yoga mat (1.5mm to 2.5mm) will aid in keeping you grounded in your Vinyasa, but it won't provide adequate support for your joints. You can feel the floor beneath with a thin yoga mat.
A standard yoga mat (3mm to 5mm) should be enough to provide adequate support during your practice while still stable enough for you to hold your poses.
If you want to do more restorative or yin yoga, which demands that you hold a posture for a long time, an extra-thick mattress will help. It should be 6mm to 8mm thick (your knee will thank you for that).
#2 Material & non-slip surface
The material is important because it decides how sticky the mat is and how comfortable you are on it. (Some people prefer the natural scent of the cotton mat, but it doesn't perform well as the rubber one.)
Most yoga mats on the market are made from synthetic rubber-like PVC, TPE, or PER. Many people, however, choose natural rubber or cork material since it has a good grip and yet causes no harm to the environment.
Read more detail on How to choose a yoga mat
#3. Portability
The thickness and material of the Yoga Mat decide the weight of a yoga mat. If you want to carry your mat between classes a heavy mat is not an option.
A portable yoga mat should make it easy for you to transport back and forth from home to studio. It should be lightweight and easy to roll up, and it should fit easily into a yoga mat bag or strap.
FAQ
What Is Standard Yoga Mat Size In cm?
The standard yoga mat size is roughly 172 to 180 cm long and 61 to 66 cm wide.
What Are The Best Materials For A yoga Mat?
Natural rubber is one of the best materials for a yoga mat. It provides traction, durability, sweat-wicking properties. Plus, it is biodegradable and recyclable.
Is A 4mm Or A 6mm Mat Better?
A 4mm mat is smaller, lighter, and more convenient to transport. The thickness of the 4mm mat provides enough cushioning while still allowing you to maintain your balance on high-intensity practices. If you have sensitive joints or do yoga style that demands holding a pose long, opt for a 6mm mat with extra cushioned.
The thickness of the mat you'll want will depend on your needs, but hopefully, these two details can get you started in finding just the right size for you!
What size yoga mat is best?
So, as I mentioned earlier you need at least 6 inches (15 cm) to 12 inches (30 cm) longer than your height to feel comfortable in your practice.
If you are under 5'7″ the standard mat (68″ to 71″) should be fine.
If your height is between 5'7″ to 5'11" consider a 71″, 72″ mat.
If you are higher than 5'11″ then look for 79" to 85" mat
Conclusion
The size of your yoga mat is important because it will affect comfort, so make sure you have one that's big enough. When you're in a posture, you don't want your feet to dangle off the end or be too close together for any particular stretch.
We hope that this post may provide you with some useful ideas to select the right size you need!
[1] https://ourworldindata.org/human-height