When you want to shop for a new yoga item for your practice you might feel overwhelmed with so many yoga brands in the booming yoga industry.
So, I spend 9 hours doing research and reach out to yoga teachers, yogis on social community groups to get their suggestions on go-to yoga items.
Then, I compile the list of the 27 best yoga brands.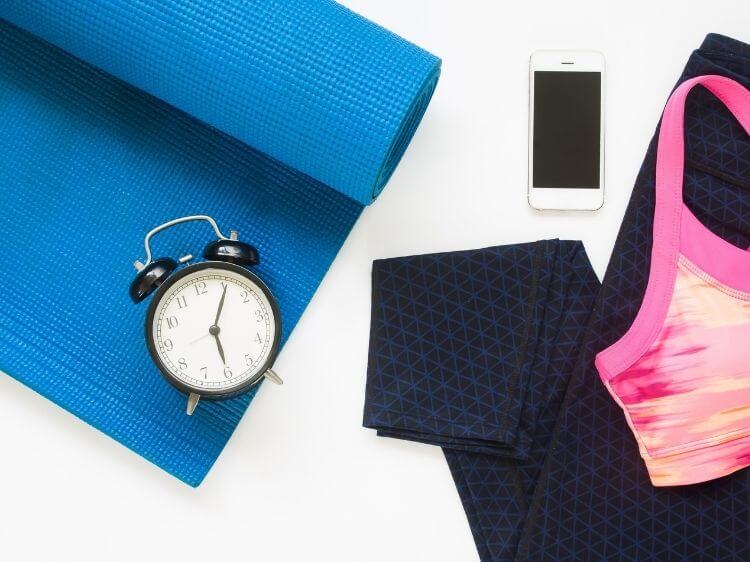 Whether it comes to choose a yoga mat to stay safe during your practice or add new trendy yoga item to your wardrobe, it all comes to your personal interest. (You want to support sustainable brands, or looking for high-quality technical design)
So, we start our best yoga brands list base on
Popularity: We include popular athletic brand and few newcomers
Product: Yoga clothes brands to yoga accessories brand
Pricing: Premium to affordable yoga gear
Sustainable: Some brands focus on practicing sustainable and ethical manufacturing.
And with each brand, there is suggestion of what to buy based on the positive feedback.
Here is the list.
Lululemon
Lululemon is go-to athletic apparel brand if you are looking for the best yoga pants on the market. In fact, many yoga teachers rely on their Lululemon Align Pant to build their outfits around.
Design with yoga lifestyle in mind, their leggings offer great mobility, excellent for stretching. It moves with you from sun salutation to savasana with ease. Fabric is supper-soft and moisture-wicking but not too tight against your stomach. With top-north quality legging, it is no surprise to see Lululemon logo on waistband fitness enthusiasts from yogis to runners.
Not just only yoga clothes, you can check their high-quality yoga mat that comes with 100% satisfaction guarantee.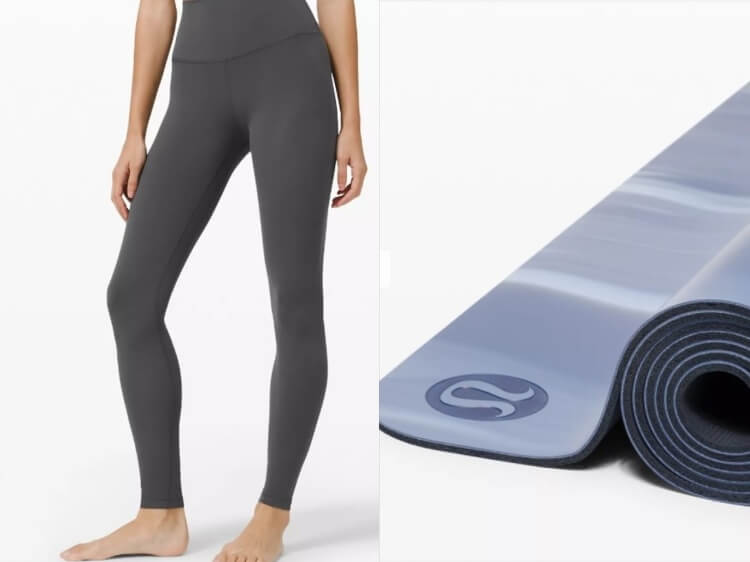 What to buy?
Lululemon Align Pant ($98). Pricey. But the quality worth the price tag. Good investment if you live in yoga clothes.
Lululemon The Reversible Mat ($80): It gives you great grip and offers extra cushion without feeling unstable.
Manduka
Talking about yoga mat, it is hard to beat Manduka performance and lifetime warranty.
The company made a wide range of high-quality yoga mats from eco-friendly materials. If you practice yoga at home, you may love to flow on the extra thick pro mat. And, if you are eco-conscious why not try their non-toxic EKO mat to cause less impact to the environment. Each mat design with grip, support and, stay with you for several years. (Some teachers report it does not wear out after 10 years of daily use. However, it does take some time to break in.)
Manduka expands products from yoga mats to yoga accessories and clothings.
The company maintains its sustainable approach on manufacturing yoga products. One of the best yoga brands on the market that you may want to check out.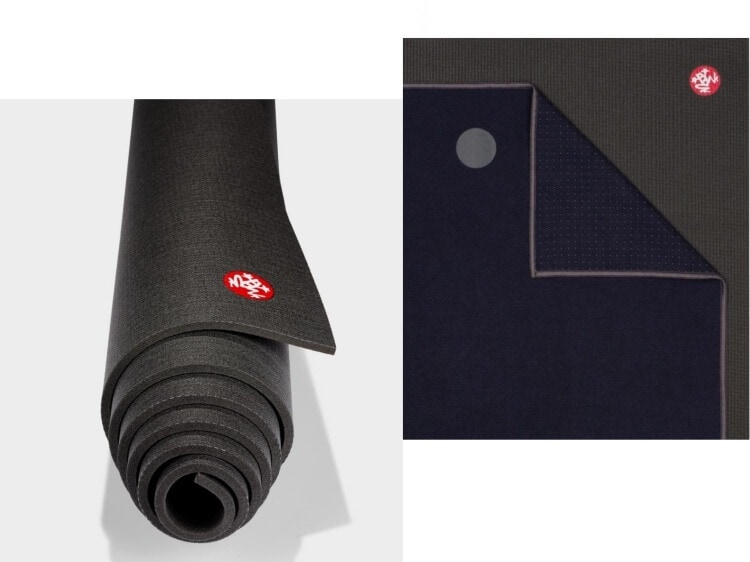 What to buy?
Manduka Pro Yoga Mat ($120): Great performance, decent grip after breaking in, lifetime warranty.
Yogitoes Yoga Mat Towel ($60): Put on top of your yoga mat to prevent slipperiness. Comes in wide range of colors and patterns. You can bring it when you travel. Plus, can throw it in the wash.
Athleta
Athleta design premium quality technical clothing target women in several activities from running, hiking, swimming, and yoga. You can browse a wide collection of yoga clothing from leggings, sports bras, tops.
Many yogi practitioners recommend Athleta leggings in Powervita fabric. Feel like butter on your skin, super flattering, and stay in place even in hot yoga class.
And they have "give it a workout" guarantee. You can wear the clothes and if you are not satisfied you can exchange or get refund.
The brand making its way towards more ethical and sustainable. Aim for 80% of recycling materials.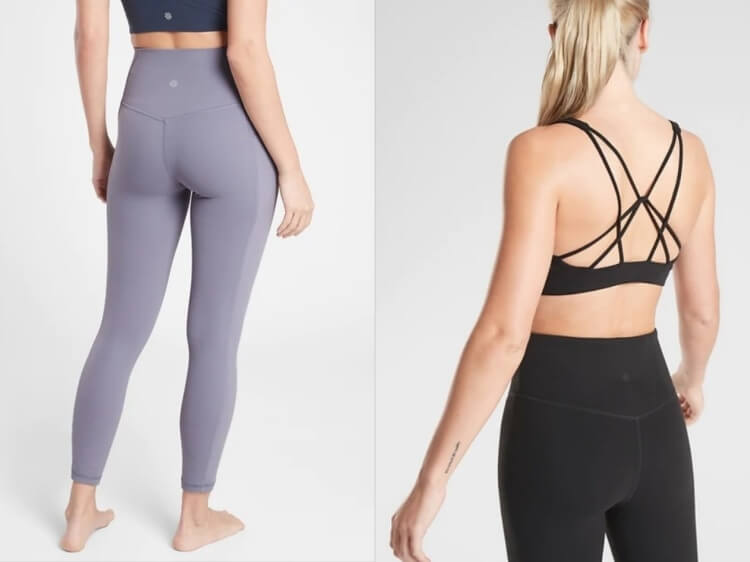 What to buy?
Athleta Salutation Stash Pocket II 7/8 Tight ($98): Feel gently on waistband, come with pockets, hits just above ankle.
Athleta Solace Bra A-C ($49): Low-impact sports bras with crisscrossed straps detail.
Beyond Yoga
With the mission to empower woman, Beyond Yoga produces super comfy yoga clothes for people of all size, shape, colors.
The high waist leggings are go-to piece to wear in and out yoga studio. It is buttery soft and smooth, super high-waist band so you can bend over or stretch comfortably during your yoga session. Plus, the look doesn't change after long-term use.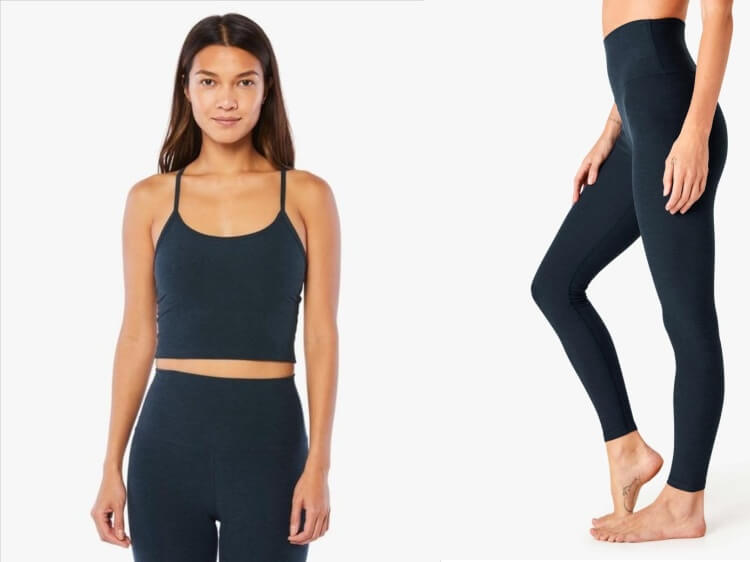 What to buy?
Spacedye Ultra High Waisted Midi Legging ($97)
Spacedye Slim Racerback Cropped Tank ($66)
Outdoor Voices
Rising brand in fitness industry, Outdoor Voices gaining popularity among Instagram workout enthusiasts.
Base on solid and neutral colors, they produces colorful pattern yoga collections. From yoga leggings, sports bars to tanks and sweaters. Fabric is ultra-soft make you feel just right and flattering fit. These stylish yoga outfits can use for various occasions like practicing in yoga studio, hitting the gym, or walking your dog outside.
Browse through their catalog and find your style. Maybe Springs Legging for gentle yoga and TechSweat to stay sweat-free during your hot yoga.
Plus, you can build yoga and activewear clothing kits based on your preferred activities and styles.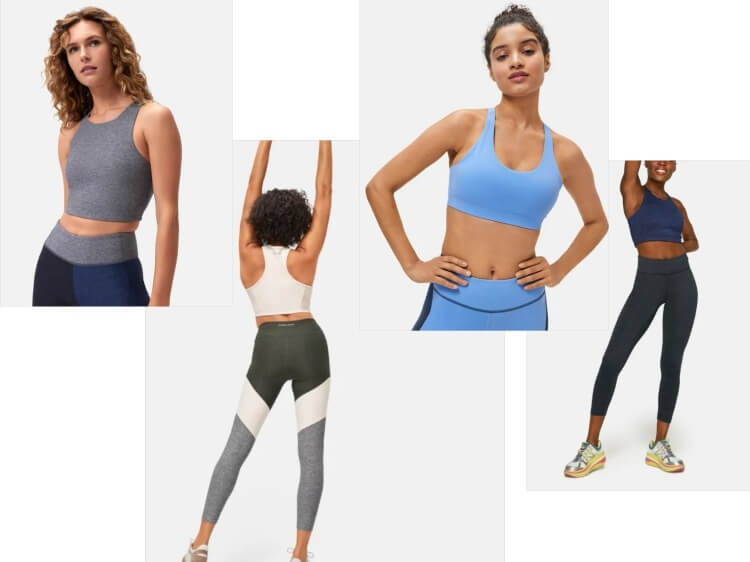 What to buy?
Outdoor Voices 7/8 Springs Leggings ($67)
Outdoor Voices Flex Zoom TechSweat 7/8 Legging ($88)
Outdoor Voices Venus Crop Top ($48)
Outdoor Voices All-Time Bra ($58)
Prana
US premium yoga clothing brand make quality, durable and super-versatile clothing. But also prioritize sustainability.
Prana has wide array of yoga apparel focus on comfortable and multifunction use. Prana clothes is go-to for not only yoga but other wear.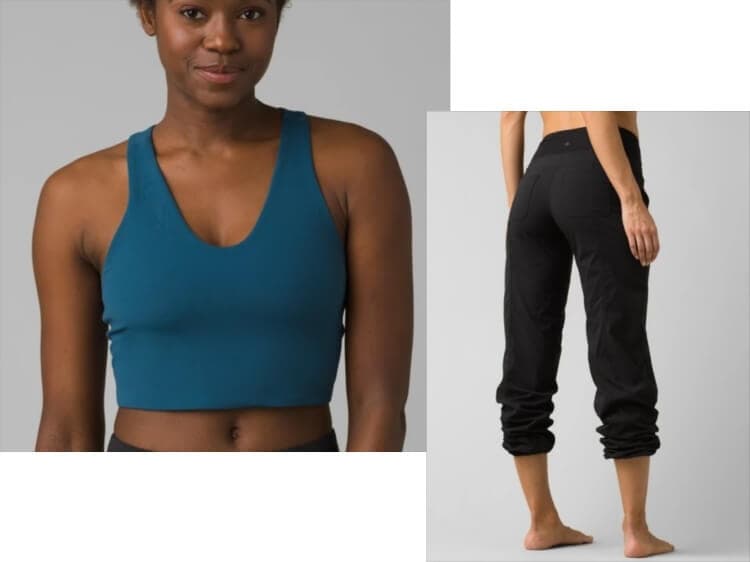 What to buy?
Momento Crop Top ($59): Soft, wick sweat, made with recycling nylon. Can pair with dress or sweatshirt for going outside.
Prana summit pants ($51): Stretchy, fast dry. Bring new look to your yoga outfit and always ready to travel.
Alo Yoga
Browse through Instagram feed you might notice that there are several influencers pose in stylish outfit. That's cute-looking yoga clothes might be Alo Yoga.
Most of items are made with fabric that lifts and sculpts your body. It's 4-way stretching, moisture-wicking that stay in put during your handstand.
You can shop matching sports bras and legging set for your workout. And a cropped hoodie to put on top of your outfit for post-practice.
What to buy?
Alo Yoga 7/8 High-Waist Airlift Leggings ($114)
Alo Yoga High-waist moto legging ($114)
Jade Yoga
If your hands are sweaty, you may want to check out Jade Yoga. The company produces some of the grippiest mats on the market. Their mats make from planet-friendly materials and comes in great variety of colors, styles, and thicknesses. You can choose the color that you like and knowing that one tree be planted after your purchasing, isn't that cool!
Jade also make has a collection of yoga focus products like yoga blocks, yoga towers, yoga rugs, and more.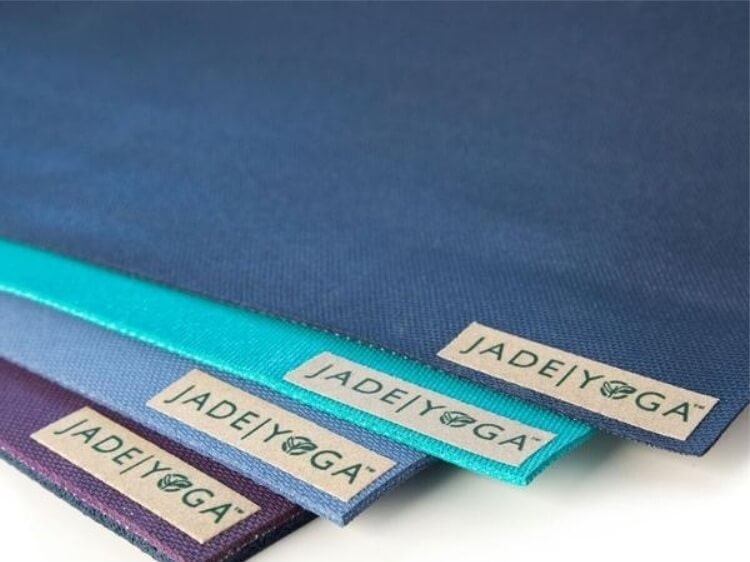 What to buy?
Jade Yoga Harmony Yoga Mat ($80)
GirlFriend Collective
Are you minimalist yogi? Chance you'll obsessed with GirlFriend Collective sustainable activewear brand. They transform trash into adorable collection of yoga clothing and markets with a wide range of body sizes and skin tones.
The company worth supporting because:
You can find some of the best performance yoga wear: Fabrics are perfectly soft, sweat-wicking, supportive, so you feel comfortable during your practice. Plus, it don't wear away. (Sizes from XXS-6XL)
Sustainable materials: Recycled fabric made out of post-consumer water bottles and fishing nets.
Ethical manufacturing: They pay fair wages and supports safe working environment for factory workers.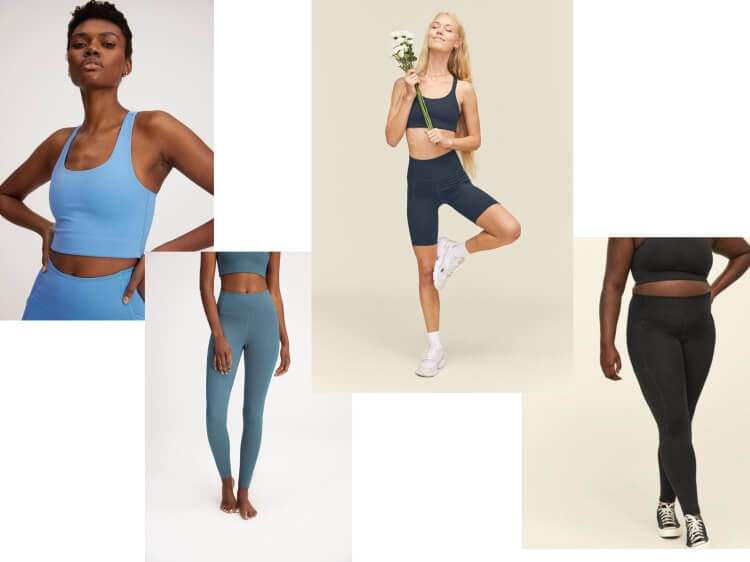 What to buy?
Girlfriend Collective High-Rise Pocket Legging ($78)
Girlfriend Collective Paloma Bra ($38)
Girlfriend Collective High-Rise Bike Short ($48)
Sweaty Betty
Sweaty Betty is UK woman activewear brand focus on promoting body positive in their design. (Halley Berry team up with this brand to create her first clothing line.)
You can find your new luxury activewear from classic black to colorful prints and patterns. Their fabrics are sleek and support, and comfortable to use for workout and lifestyle wear.
What to buy?
Sweaty Betty Super Sculpt Sustainable High-Waisted Yoga Leggings ($108)
Sweaty Betty Power 7/8 Gym Leggings ($109)
Sweaty Betty Mindful Seamless Yoga Bra ($48)
Sweaty Betty Emily Strappy Back Dress ($159)
Liforme
Liforme yoga brand makes high-quality eco-friendly Yoga Mats from non-toxic material. The brand is famous with iconic yoga mat. It features alignment line to help you in placing your foundation and keep proper form for your yoga flows. Their mat comes with yoga mat bag.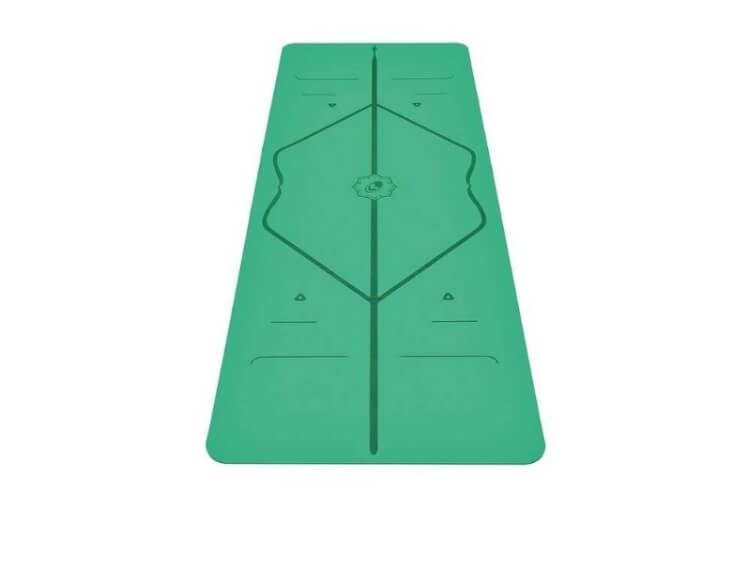 What to buy?
Wolven Threads
Another ethical and sustainable yoga wear brand worth buying is Wolven Threads.
With the mission of "sustainable sexy". Wolven makes stand out prints, matching yoga sports bra and legging set made from recycled plastic bottles. The cute thing is that some tops are reversible with a solid color inside so you can wear them in 2-4 ways.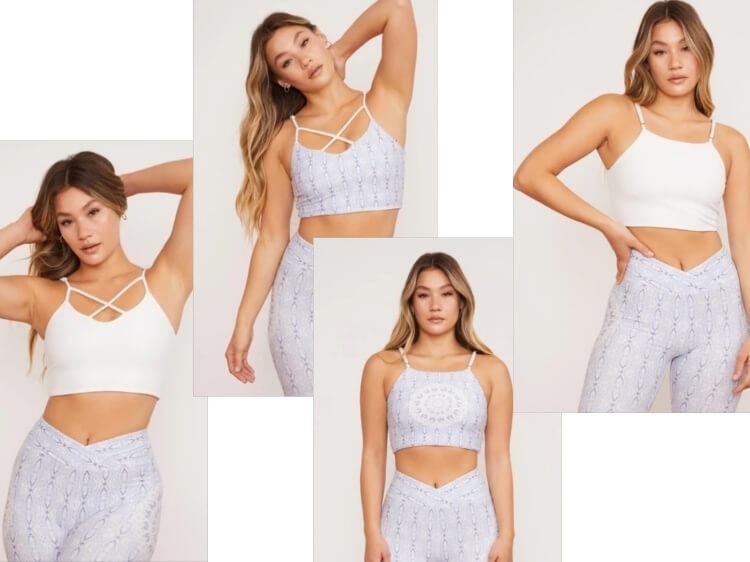 What to buy?
Crisscross Four-way top ($74)
Zephyr One Shoulder Top ($84)
Onyx Bell Bottom Leggings ($130)
Hard Tail
Check out Hard Tail Activewear and Performance selection for all your yoga needs on and off the mat.
Their Fitness apparel collection comes in classic designs, top-north tie-dye prints, and always in style. From soft and sexy strappy back bras, high waist ankle legging, and slouchy cardigan or zip-up hoodie. Go ahead and find your style.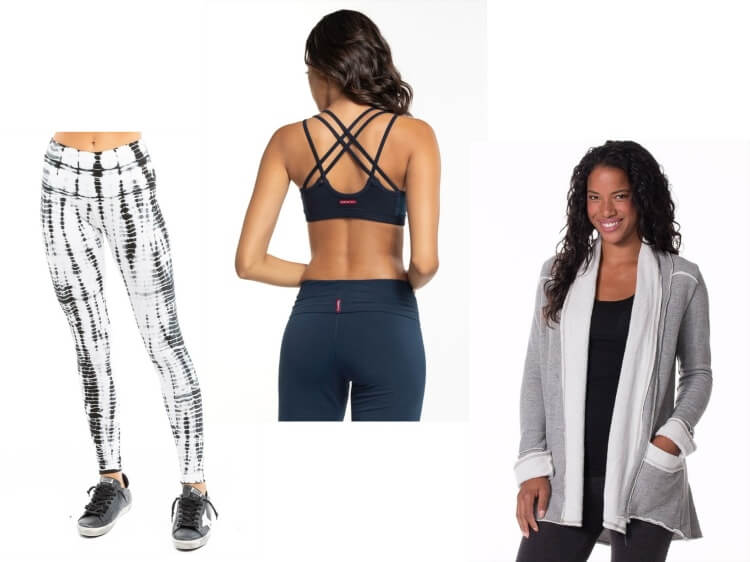 What to buy?
Tonal Strappy Bra ($44)
High rise ankle legging ($47)
Slouchy Cardigan ($112)
Gaiam
If you are looking for affordable yoga apparel and accessories brand. Look no further than Gaiam.
Their yoga mat cost less than $25, comes with many patterns and colors, and still served you well in majority of yoga classes. (With a combo of a sweat towel).
They also make other yoga-centric products such as yoga props which are helpful for your home practice. Why not go and grab yourself a yoga strap to ease your body in deep hamstring stretch.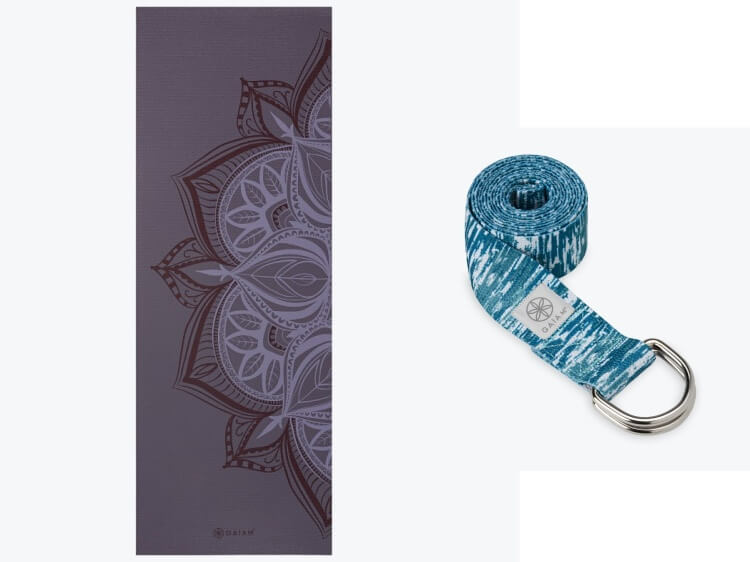 What to buy?
Gaiam Premium Print Yoga Mat ($24.98)
Gaiam Premium yoga strap ($11.98)
Fabletics
Fabletics is US active-lifestyle brand. They produce affordable, quality workout clothes for both men and woman. You can shop for yoga outfits and functional clothes that you can do workout at home and work from home.
The brand has marketing schemes that you join the VIP membership program you can access 20-50% discounts on every item. The bill for membership is each month but you can skip a month if you don't like it.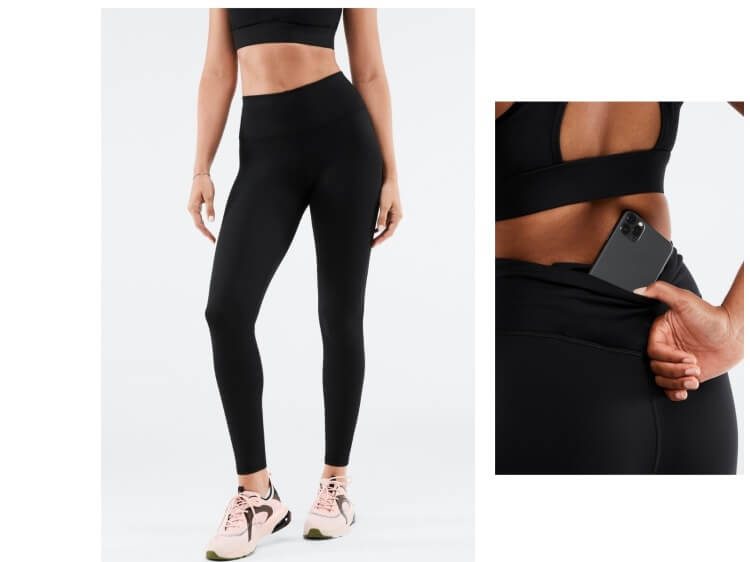 What to buy?
Fabletics high-waist PowerHold leggings ($70): Perfect compression and stretch
Alala
Alala produces high-end designer activewear for women. Their collection includes a wide range of stylish women's workout clothes that you can use during workouts and outside.
You can also customize your own leggings, choosing everything from the panel colors down to a personalized monogram.
What to buy?
Alala Tie Back Tank ($65)
Alala Edge Ankle Tight ($115)
Alala Vamp Bra ($95)
Alala Flow Seamless Bra ($64)
Indigo Luna
Indigo Luna is an eco-conscious yoga and swimwear line that uses natural fabrics and organic dyes. All items are hand-made locally in Bali.
You can browse their collection of yoga leggings and top and other wear with earthy colors from various plant-based materials.
What to buy?
Boxy Crop in Saffron ($55): Stylist look, comfy
Layla Flares Saffron ($99): Comfort, soft, and versatile, perfect for light yoga and to the street.
Mika Yoga Wear
Mika Yoga Wear is affordable and feminine style workout and swimwear. They produce small batch activewear designed for yoga, pole dance, and more!
"Make for movement" is the company mission. Each piece is carefully crafted to figure-flattering with different body sizes. the quality of the fabric is comfortable and practical enough for hot yoga, pole dancing, and intense workouts.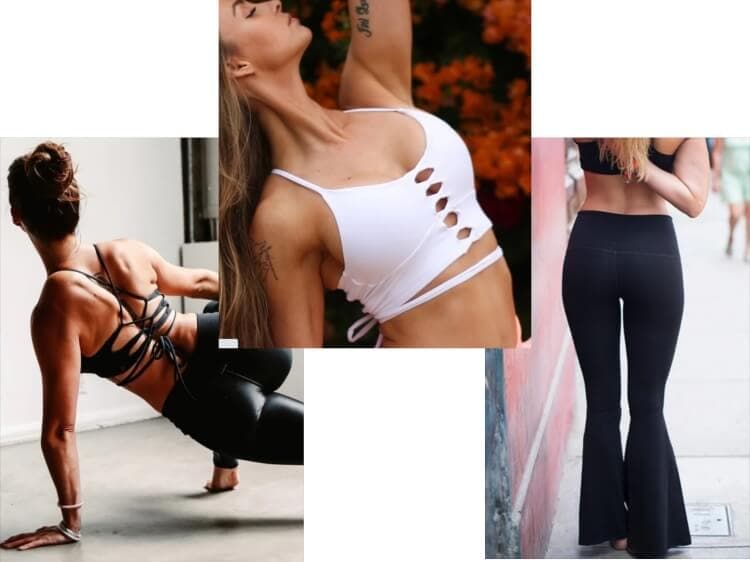 What to buy?
Cielo Crop ($48): Sexy and unique style, supportive, stay put in yoga, and can bring to the beach.
Bella Pant ($78): Takes you everywhere from yoga class to running in the park.
Onzie
Add a playful yoga vibe to your athleisure wardrobe with Onzie pieces. Their yoga selection comes with great variety of colors, graphic patterns, and leopard prints. Imagine you do wild thing pose in leopard print yoga legging.
Their breathable, sculpting fabrics make their yoga clothing your new go-to!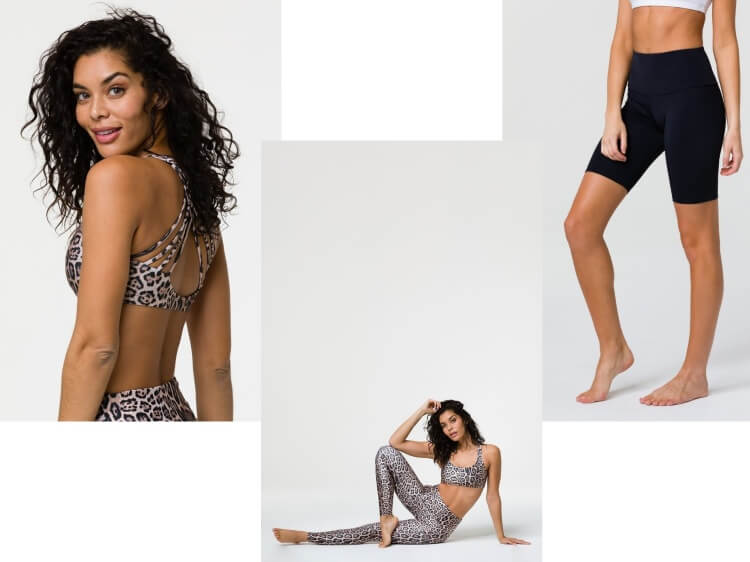 What to buy?
Onzie High Rise Bike Short ($54)
Onzie Chick Bra ($52)
Onzie High Waisted Yoga Leggings in leopard print ($74)
Nike
Do you know World #1 sportswear brand has a collection for yoga clothing start from 2019?
Nike wants to give a design that you can feel sensation during your yoga session. Which means soft, comfortable, and incredibly stretchy, but also in style so you can stay cool in class.
Nike's product is high quality and durable as it lasts long. So, if you're searching for your next activewear piece, consider this midrange brand that won't break the bank.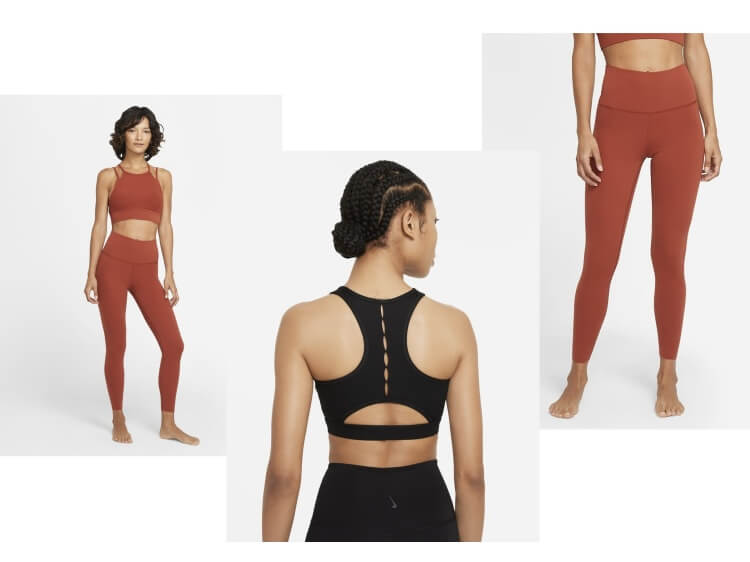 What to buy?
Nike Yoga Luxe 7/8 Leggings ($90): Hug in the body, stretchy and soft, passes the squat test, light compression, and fast dry.
Nike Yoga Dri-FIT Swoosh ($38): Stylist design with higher neckline. Stay comfortable in inversion. Soft fabric with 50% recycled polyester.
Tala
Founded by London-based fitness influencer Grace Beverley, Tala is a newcomer in activewear industry.
With the mission to offer sustainable fashion but at a fast-fashion price, the majority of Tala products use recycled fabrics (90%).
Their workout collections include on-trend design, high-performance, form-fitting pieces. And keep the perfect balance between comfort and compression. Whether you practice yoga or go for a run, Tala's item may be your next favorite piece.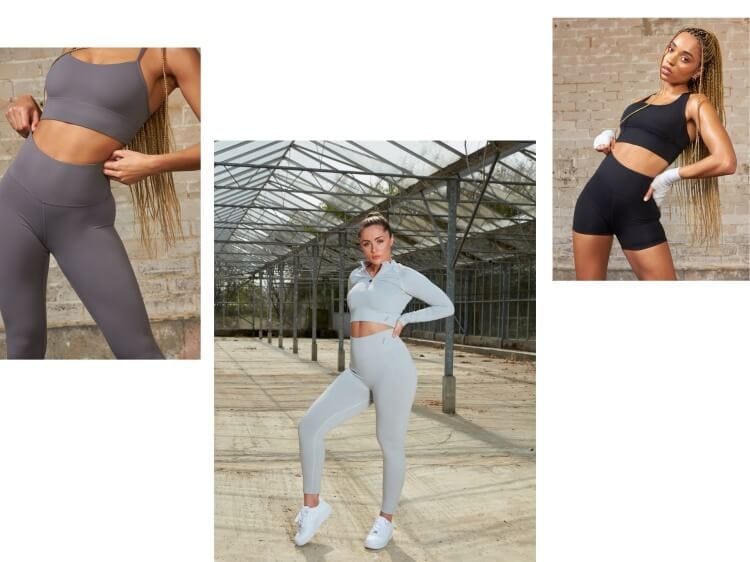 What to buy?
Aster crop ($51)
Skinluxe Tank Sports Bra ($49)
Skinluxe Legging ($75)
FP Movement
FP Movement Activewear designs are both functional and attractive. Target young adults who have an active lifestyle and love yoga, gym, dance, running.
Free People's performance line filled with cute and comfy workout clothes to show off inside and outside the gym. Fabrics are stretch and breathe that keep you moving.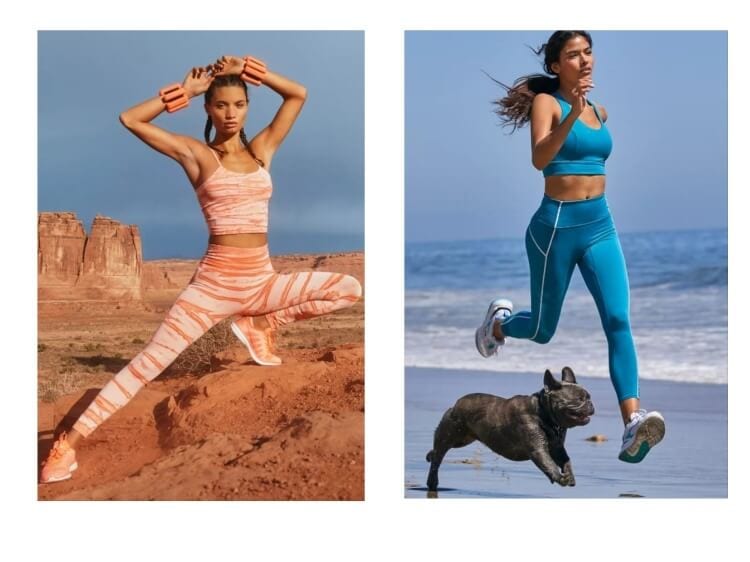 What to buy?
High-Rise Good Karma Leggings ($78) (comes 30 different colors)
Good Karma Tie-Dye Leggings ($88)
Zella
Zella is an activewear brand by Nordstrom. They reproduce quality, stylish athletic apparel at an affordable price.
Zella Live In leggings deserves a place in your wardrobe. Feel smooth on your skin, comfortable stretch in 360-degree, form-flattering, and breathable. Come in different colors and patterns. So with the name, you can "live in" this legging in and out studio.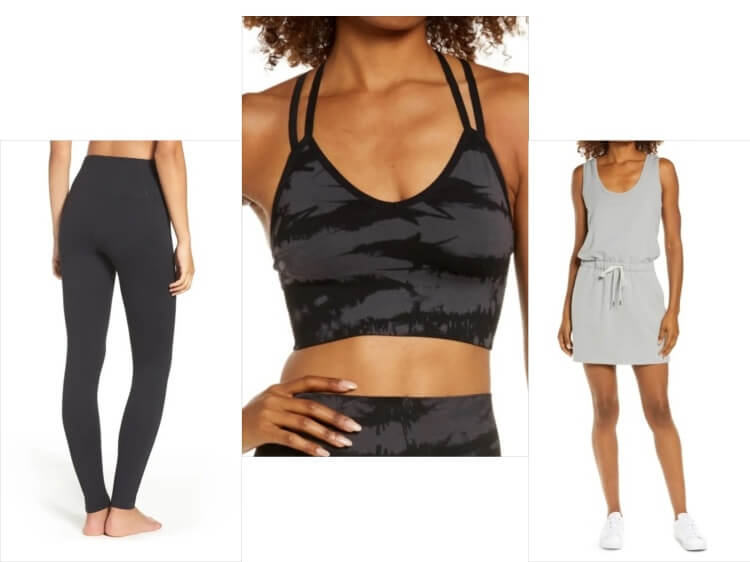 What to buy?
Zella Live in High Waist Leggings ($59)
Kira Grace
Kira Grace is well-made premium yoga clothes made in the US. Their goal to celebrate women's beauty, grace and strength. Their design team has created a technical yoga line that is comfortable, beautiful, and flatters your figure.
There are wide ranges of products from Yoga tops, bottoms dresses. All items use high-quality fabric and colors stay vibrant after long use.
Plus, part of their profit goes to charity.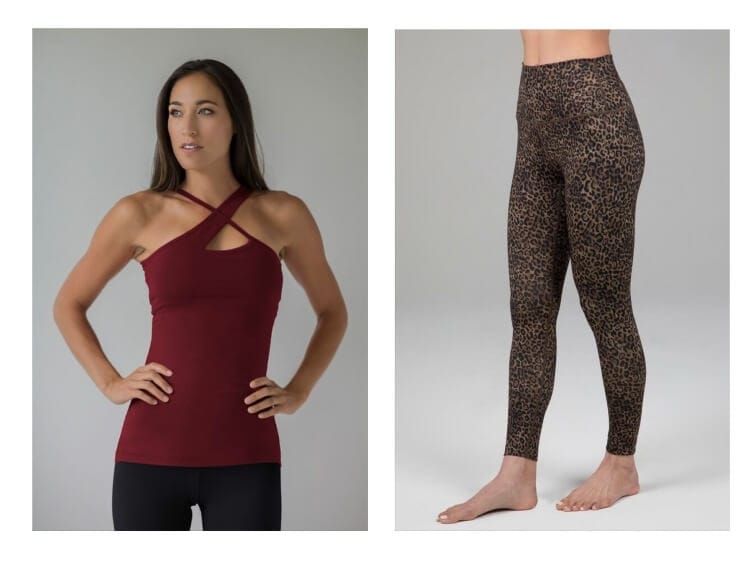 What to buy?
Warrior Victoria Halter (Black) ($88)
Leopard print legging ($98)
Adidas
Class brand in sport Adidas has a wide range collection of yoga clothes and accessories. Design to optimal performance, endurance with a sustainable approach.
Adidas high-rise leggings come with an affordable budget. It helps you feel comfortable when you bend in wheel pose or stretch in split. It stays in play when you do inversions.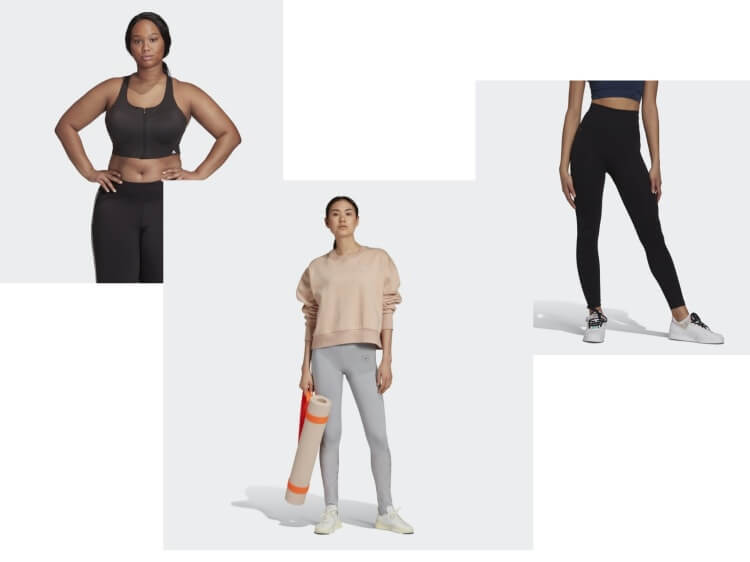 What to buy?
Under Amour
American spot brand Under Amour is go-to place if you want to find classic yoga outfits that you can wear from yoga to CrossFit.
With engineered fabric technology, they makes workout clothes that wick sweat like a champ, keep you dry and stay cool in your class.
Price range from $32 to 75$ for one pair of legging/spants, bra from $30-$45. It's quite affordable. What else you are looking for?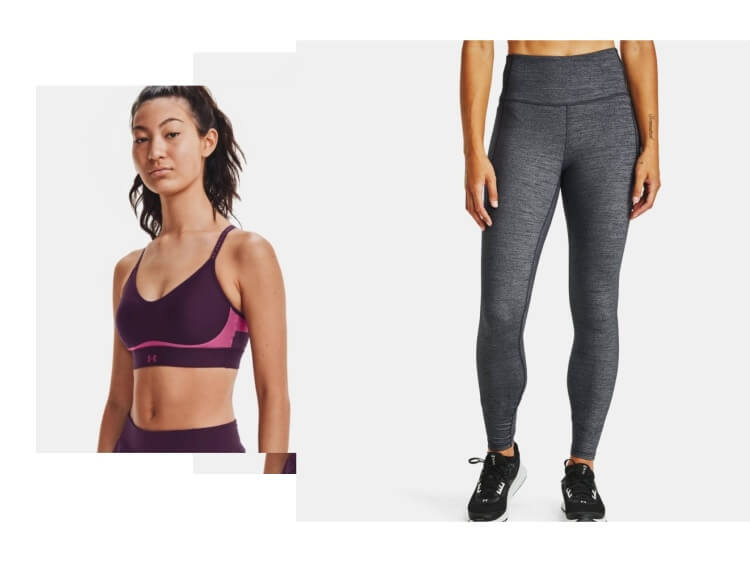 What to buy?
Women's UA Meridian Leggings: Sweat-wicking, functional, look cute and fit without seeing through. ($72)
Women's UA Infinity Low Covered Sports Bra ($35)
Ripple Yoga Wear
Ripple Yoga Wear creates eco-friendly yoga clothing made from organic cotton and natural fabrics.
Keep "yoga principals" in mind they make a small collection with minimal but modern design. Focus on quality, performance, stretching, and motion that make you comfortable on and off the mat.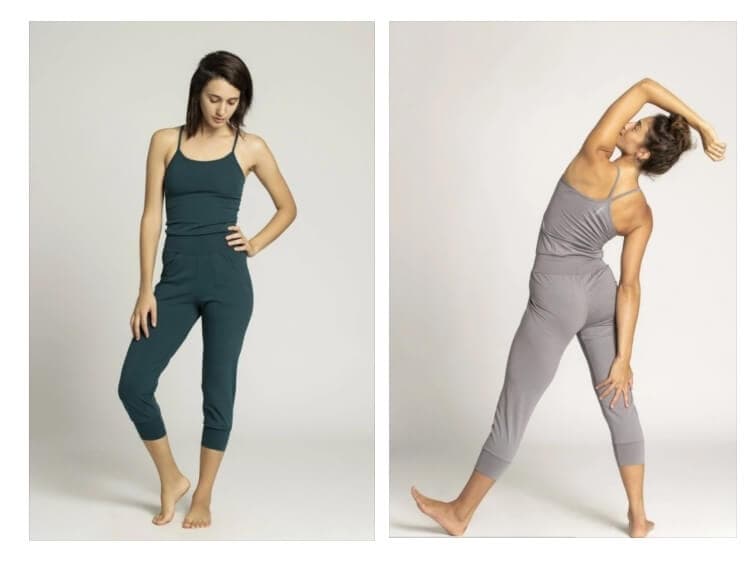 What to buy?
Ripple Yoga Jumpsuits ($114): Stay in place during practice allow you freedom of movement
Next up
You've made it to the end of this blog post! Thank you for reading.
I hope you've found the information in these 27 best yoga brands useful, but if not, we recommend finding more sustainable yoga clothing options.