You know that clothing habits are impacting the environment, so you try to look for more sustainable yoga clothes.
You research the list of sustainable labels on the internet. You got the list of the brands that are doing good. But you are not sure if their yoga clothing stays put during your practice, or if you can trust what they say about what they do.
So, I spend 29 hours researching brands that make yoga clothes that not only perform well but are also environmentally conscious.
I build the list of 9 sustainable yoga clothes brands based 3 main things (you can read more on how I research the list at the end of the article)
#1. Product description listed eco-friendly material
#2. Sustainable practice and certification that back up their claims
#3. 3rd party certification like B Corp, 1% for the planet, Climate Neutral
One thing to keep in mind. Activewear has a long way to go toward sustainability. Most yoga clothes are often used synthetic material to make them stretchy by blending a small amount of spandex or Elasthane.
So, you don't want to see tiny plastic bits end up in the ocean. Try your best to pick up the microfiber bag to catch it.
Here is the list of ethical and sustainable brands to shop for yoga wear
Organic Basics
Based in Denmark
Certified: B Corp, 1% for the planet
Price range (USD): Top: $60-80, Bottom $80-$100
Size range: XS-XL
Organic Basics is an eco-friendly fashion brand that priority sustainable practice in everything that they do. From searching for innovation, responsible fabrics to practice ethically sustainable production.
If you browse their shop online, you can see in the product description describe detailed material and which factory made it.
The company features silver tech yoga legging that is made from 96% recycled nylon and 4% elastane.This legging comes with a simple design, high quality that feels comfortable, breathable, and lasts long. It can go with you from yoga studio to walking in the park.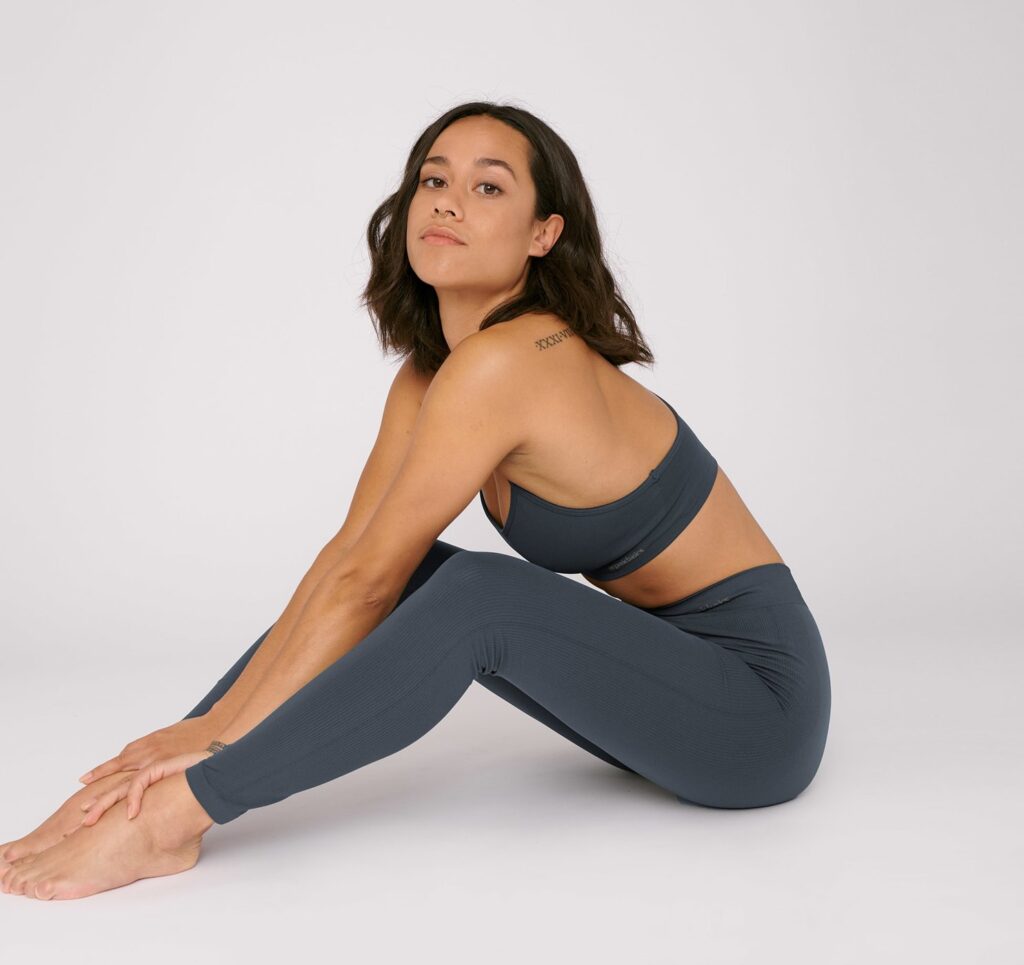 Eco-friendly materials
They always look for the most responsible fabrics material. Based on environmental footprint and lifetime durability. They use 70% plant-based material like Tencel & organic cotton and 30% recycled material, nylon, cotton, cashmere, wool.
GOTS certified organic cotton.
GRS certified nylon, make from pre-consume textile waste.
TENCEL™ Lyocell, plant-based fibers that are biodegradable.
Bluesign® approved permanent fabric.
Recycle wool.
Sustainable practices
They worked with trusted and certified factory partners that are free of child labor, labor abuse. Like GRS, Oeko Tek Standard 100, SMETA, SEDEX, FSC, PEFC
Use renewable energy in its supply chain
Recycle offcut textiles to reduce fabric waste
The company also taking action to reduce greenhouse gas emissions. And now offset their carbon footprint
Give back
Fund environmental activists and organizations: WWF, Amazon Watch, Rewilding Europe, Green Kayak
Organic Basics donated a portion of their profit to 1% for the planet
Girlfriend Collective
Based in the US
Size range: Size-inclusive from XXS–6XL
Price range (USD): Bottom $68; Top from $38
Girlfriend Collective might be your go-to when shopping for sustainable activewear. Their activewear collection come in a great variety of size and color. And it is nice to know that when shopping for compressive legging and you help 25 water bottles diverted from landfills.
The process of turn plastic into clothing starts from Taiwain. The plastic waste (plastic bottles, fishing net) is recycled into fabrics. Then it goes through an eco-friendly dying process. And final it was then cut and sew in a factory in Vietnam.
One thing that makes them stand out from other brands is they offer the Close the Loop program. They takes back your girlfriend item and turns it into new clothing. (Available only in the US at the moment).
The brand's most popular compressive and comfortable leggings are made of 79% recycle polyester RPET blend with 21% spandex. The polyester is fully recycled but not spandex.
Eco-friendly materials
Majority of products are made from recycled water bottles (recycle polyester RPET). Others are ECONYL (recycled nylon), cupro (recycled cotton waste), and organic cotton.
Recycled fabric is certified Standard 100 by Oeko-Tex
Sustainable practices
Reuse offcut materials
They use low-impact non-toxic dyes, wastewater is treated cleaned before it is released
Factory in Taiwan are certified by the government
The factory in Vietnam is SA8000 certified. This means they guarantee fair wages, safe and healthy conditions, no child labor or forced labor. They also provide free lunch and dinner to workers.
Packaging is 100% recycled and recyclable.
Take back the old GirlFriend pieces and recycle them to new pieces.
Give back
In 2020, they donate 100% of the net profits from their socks & underwear launch to organizations that are supporting and serving Black communities:
Tentree
Based in Canada
Price range: Top: $45; legging $58-68$
Size range: XS-XXL
The idea behind the name of Tentree apparel company is simple, you purchase one item they plant ten trees. Tentree gives money to organizations like Eden Reforestation Projects, Trees for the Future to plant trees. Through the program, they have already planted over 61 million trees and have a goal to plant 1 billion trees by 2030.
By using the tracking code when purchasing a product, you can locate where your tree has been planted through their website tracking system.
Tentree uses one of the most sustainable fabrics to make comfortable activewear and other wear such as TENCEL, recycled polyester, organic cotton, and hemp. Similar to another brand, their leggings are made of recycled polyester with a little bit of elastane.
Eco-friendly materials
TENCEL are FSC certified
Recycled polyester made from single-use plastic bottles
Organic cotton sustainable fabric
Hemp natural fibers which are kind to the planet
Sustainable practices
Partner with a high standard of ethical labor rights factories.
With the company Code of Conduct, they ensure workers have a living wage, a safe working place, no child labor or forced labor.
TENCEL™ fabrics are produced in an entirely "closed-loop" process.
Tentree is Climate Neutral Certified brands.
They use renewable energy, and low-impact fibers like TENCEL
Give back
With their tree planting projects, the impact is easy to see. These trees not only help improve the ecosystem but also provide jobs for communities across the globe.
Supporting Great Bear Rainforest, India Solar Project, Burn Stoves in Kenya
Athleta
Based in the US
Certified B Corp, Climate Neutral
Price range: Top 54-59$; Bottom 89-119$
Size inclusive: XXS to 3X
Athleta premium apparel brand creates versatile performance clothes that empower females on an active lifestyle. They offer one of the best yoga leggings on the market with sizing extends from XXS to 3X. Their activewear collection is designed to move your body seamlessly from inside to outside.
The company has been certified B Corp since 2018, they set goals and track their progress. Today they use 71% sustainable and recycle fabrics with the goal of 80% by 2020.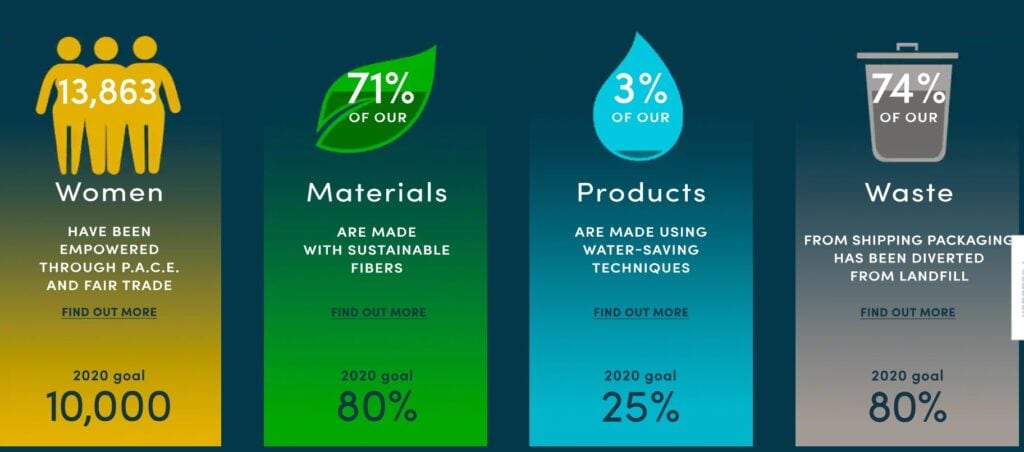 Eco-friendly Materials
Recycled polyester and nylonTENCEL® Modal, TENCEL® Lyocell, and organic cotton
Use efficient fabric dyeing and finishing techniques.
Sustainable practices
74% of waste from shipping packages has been diverted
Give back
The brands empower female workers through P.A.C.E. program and Fair Trade U.S.A.
Wolven
Based in the US
Certificated: Climate Neutral, 1% for the planet
Price range: Top 28-55$; Bottom 38-84$
Size range: XS-XL
If you like fun patterns and bright colors have a look at Wolven sacred geometry pieces. The kind of yoga wear that does not just look beautiful, good quality but also moves with you seamlessly. Some of Wolven's items are reversible so you can wear from 2 to 4 ways.
Wolven goes beyond making high-quality activewear from post-consumer recycled, they also do good. Every purchase that you make will help to remove one pounce of waste from the ocean.
Eco-friendly materials
Wolven's garments are made with OEKO-Tex certified recycled PET fabric. RPET creates a second life for post-consumer water bottles. And their modal fabric is made from trees
Using non-toxic dyes in the dying process.
Sustainable practices
Their Chinese manufacturing partner is certified by WCA. Which means no child labor, abuse labor, provide living wages and a safe working environment.
Wolven is carbon offset neutral. They partner up with Climate Neutral to address their carbon footprint.
Practice Eco-conscious packaging: pieces are rolled and tied with hemp twine. 100% recycled and recyclable poly mailer.
Don't promote fast fashion by doing small patches collection.
Give back
Donate to 1% for the Planet
They partner up with One Earth – One Ocean to collect plastic from the ocean.
Boody
Based in Australia
Certified: 1% for the planet
Price range: Top 43$-50$; Bottom 43$ – 74$
Size range: XS to XL
Boody green is an ethical brand that makes premium-quality clothes for both men and women. They choose organic bamboo as their go-to fabric because it is one of the fast-growing plant and use less water and toxic chemical in production.
Design to last, Boody clothes is simple-style, comfort-guarantee, and highly breathable. Whether you work out, go for a walk, or work at home the whole day Boody's versatile pieces deserve a place in your wardrobe.
Boody leggings are made of 62% Bamboo Viscose 26% Organic Cotton 12% Elastane. The company tries its best to lowest the environmental footprint by using bamboo viscose that are FSC, Ecocert, and certified.
Eco-friendly materials
Ecocert means bamboo is grown organically without using pesticides, insecticides, or fertilizers.
FSC-certified forests mean usage of bamboo does not contribute to natural habitat loss.
Oeko-Tex Standard 100 certified means there are no harmful chemicals found on fabrics.
PETA-Approved certified, meaning no animal products are used in production.
Organic cotton
Sustainable Practices
Their partners are ISO-14001, ISO-9001. They recapture water and non-toxic waste in a closed-loop system.
Use a low waste cutting technique to reduce textile waste.
The factory is WRAP certified. They have a Code of Conduct which means your yoga clothing is not related to child labor, forced labor. They offer workers fair wages and safe and legal working condition.
Reduces its water use by using a closed-loop system in its supply chain.
Recycled packaging materials and plant-based ink.
Give back
Boody donates a portion of their profits via 1% for the Planet.
Dharma Bums
Based in Australia
Price range: Top 30$-60$; Bottom 50$ – 90$
Size range: XS to XXL
With the mission to bring to life sustainable fabrics that not only look good but also does good. Dharma Bums creates hand-painted signature activewear that are fits, comfortable, and high-performance while still keeps sustainable value at heart.
Dharma Bums unique custom prints are made from 80% Recycled Polyester, 20% Spandex.
Eco-friendly materials
Use recycled and natural fiber that is Bluesign, OEKO-TEX certified
Use natural and durable all-cotton fiber that feels like silk.
Lenzing model made from sustainable raw beechwood, this material is compostable and biodegradable.
Recycle fabrics made with post-consumer recycled P.E.T water bottles.
Sustainable practices
Have a code of conduct that ensures pay a living wage, their ethical practices align with BSCI
Reuse offcut fabric to make bags to prevent it from going to the landfill.
Shipping bags are made from 100% plant-based fibers. It is compostable and biodegradable.
Use eco-friendly printing process and dyes
Have an efficient way of managing water and waste during manufacturing
Give back
Support Thread Together, a non-profit organization that provides brand-new clothes to Australians in need.
Tala
Based in the UK
Price range: Top 43$-50$; Bottom 43$ – 74$
Size range: XS to XL
Tala British apparel brand launch in 2019 aims to make on-trend pieces from upcycled and recycled materials. Their leggings are flattering fits, perform well, don't cost the earth, and do not break your bank either. A lot of TALA stuff sells out quickly.
The majority of its yoga clothes are made from recycled nylon with a blend of spandex for stretching (We can't get activewear from 100% recycled). Interesting about TALA is their tags are filled with seeds, you can put them in the soil, add water and leave it grows.
Eco-friendly materials
The company uses over 92% upcycled or recycled materials.
Their Main fabric is Q-NOVA®, a upcycle and sustainable material that is GRS and EU Ecolabel certified
Other recycled fabrics are Recycled nylon GRS standard and Recover® recycled cotton
Organic material like bamboo, Cotton, and Lyocell (eco-friendly material made from wood pulps).
Sustainable practice
They make sure the workers have a standard of living through several standards.
Factory in Turkey, meet all BSCI requirements
Factories in China are BSCI or WRAP certified.
Factory in Portugal has a medium risk of labor abuse, also they're audited by SEDEX to make sure the standard of ethical labor, safe environment.
Bags are made of 100% recycled plastic and the tags hide plantable seeds.
Indigo Luna
Based in Australia
Price range: Top 49$-69$; Bottom 89$
Size range: XXS to XXL
Indigo Luna eco-conscious yoga and swimwear brand produce leggings, bras from sustainable fabrics. Design in Australia, cut, sewn, and dyed by hand in Indonesia.
Legging and pants are a mix of organic cotton, Tencel, Econyl with spandex/elastane. Ananda leggings are made from 92% GOTS Certified Organic Cotton + 8% Elastane. Indo pants are made from 92% TENCEL™, 8% Spandex.
If you like comfortable, multi-use, and beautiful earthy color yoga clothes to wear on and off the mat, this small brand is worth checking out.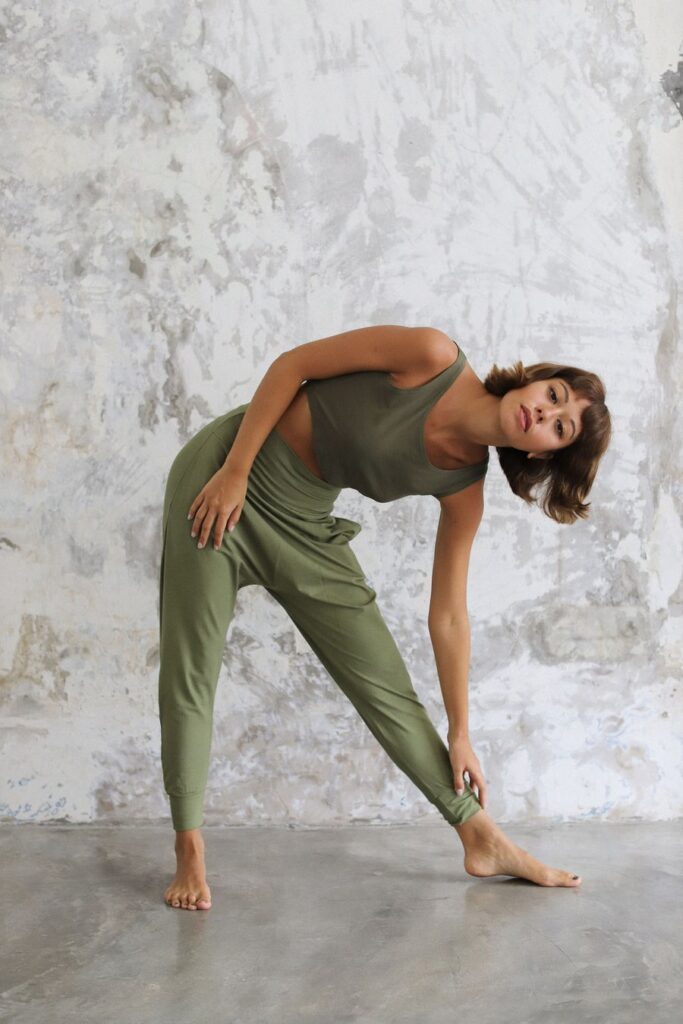 Eco-friendly materials
Use recycle nylon waste ECONYL®, TENCEL Lyocell, GOTS Certified Organic Cotton, Organic Bamboo
Using 100% plant-based dying such as Indigo Leaves, Mango Leaves, Indian Almond leaves & Indian Redwood Bark.
Sustainable practices
Econyl is a material that use plastic waste and turn it into thread Natural dyes without using harmful chemicals
Recycle packaging
How do I research ethical and sustainable activewear?
When it comes to activewear clothes, there is no such thing as 100% sustainable fabric. To build this list, there are certain things that I am looking for (To be clear, not all brands check all the items listed below).
#1. High-performance yoga wear that is comfortable, breathable, and leaves a less environmental footprint.
Eco-friendly materials
#2. Make from eco-friendly fabrics such as organic cotton, bamboo, Tencel, Lyocell, Econyle.
#3. Where the company source material. Textile certification like Bluesign, GOTS, OEKO-TEX, FSC, Ecocert
#4. Use non-toxic or plant-based dyes. Do they avoid hazardous chemicals during manufacturing
Sustainable practices
#5. Saving water and waste during production to minimize environmental impact. (Nice to have a close loop system)
#6. Ethical labor practice, pay a fair wage, treat workers well, provide a safe working environment and certification to back up. (Fairtrade, ISO-14001, WRAP, Certified B Corp, SA8000)
#7. Supply chain detail transparency (factory info)
#8. Sustainable packaging
#9. Carbon-neutral products and shipping.
#10. Product made to last. (Nice to have a recycled program)
Giving back
#11. Support local and global communities via donation, planting trees, use recycle material
The 3rd party certification
What's next!
By now you know that your yoga wears still shred microplastics into the water so don't forget to capture your microfibers by using a laundry bag.
I hope this article has inspired you to try a new brand of yoga clothes or at least reminded you that it's worth the investment. As I said earlier, your clothing should be as close to natural as possible – and if not, then it should still be free from harsh chemicals. So go ahead and treat yourself to one of these sustainable clothes today!.
The next blog post will cover some great options for the best yoga brands well as those who are looking for non-toxic yoga mats.