This is the list of the top 5 best non-toxic yoga mats.
The best eco-friendly yoga mats should also be durable and perform well. You won't use it if you don't like how it works, which isn't very environmentally beneficial.
I am a yoga enthusiast, have been practicing yoga for 10 years and I own several yoga mats. For me, when choosing a yoga mat it is difficult to find a yoga mat that has a high rating on performance (provides a decent amount of sticky and cushioning) and is environmentally friendly at the same time.
To be honest, not all yoga brands give clear information regarding the composition of their yoga mats. And, the fact is that most yoga mats on the market are composed of a combination of materials in order to improve their performance. So I spending hours researching non-toxic yoga mats online to build this list.
If you're looking for a high-performance yoga mat that is earth-friendly, the Scoria Chakras Alignment Cork Yoga Mat is the best overall choice.
I've also reviewed the best yoga mat base on eco-friendly material (cork, natural rubber, cotton). No mat in this list is made of PVC, PER, TPE. (See how I choose non-toxic yoga mat)
Let's get start.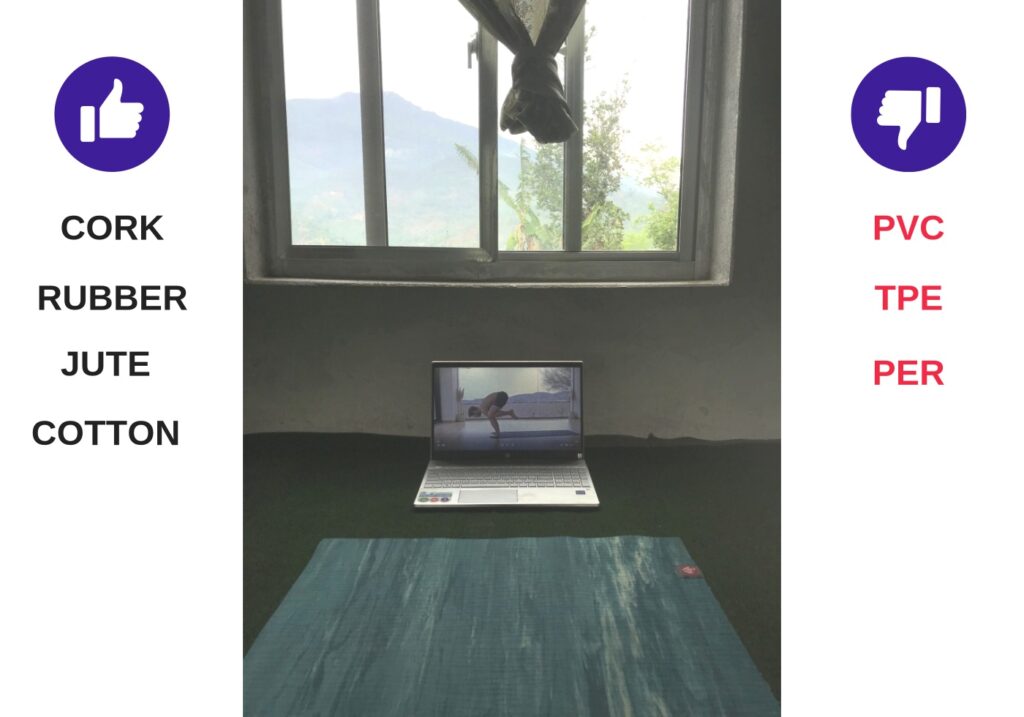 Our Best Non-Toxic Yoga Mat for a healthy practice
5 Best Non-Toxic Yoga Mat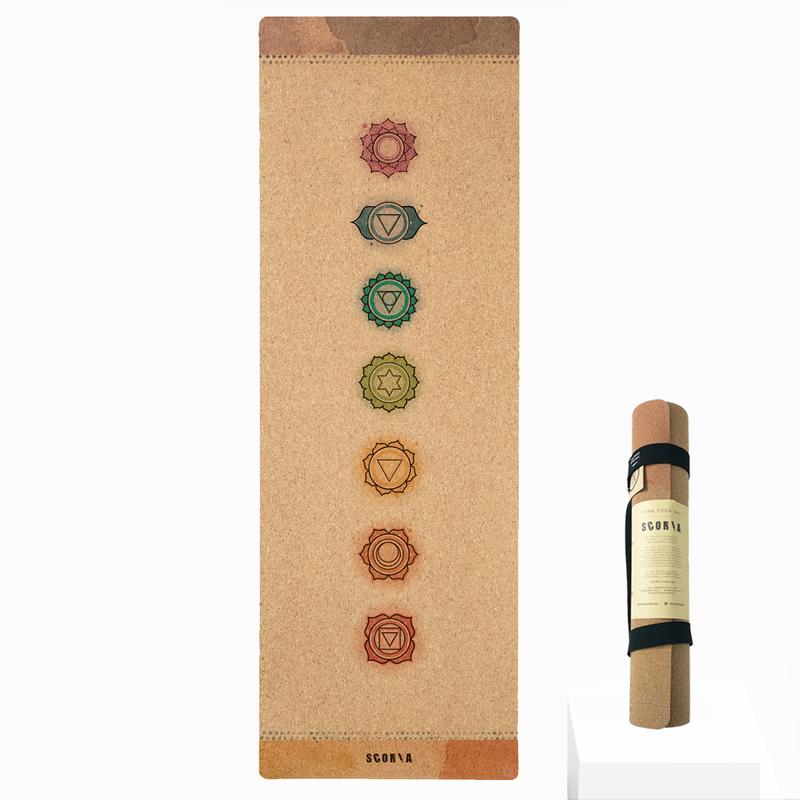 Material: Cork on rubber
Thickness and weight: 4.5mm, 2.9 kg
Size: 72″ x 24″
Performance: Great grip when wet, decent cushioning
Great for: Hot yoga
The scoria chakras alignment cork yoga mat is made out of cork and natural rubber trees, both are eco-friendly materials that do not cost the earth. The cork and rubber layers are bonded together at high temperatures without the use of harsh adhesives.
The surface cork layer is anti-bacterial, so you may rest assured that it will not leave an unpleasant odor than yoga mats. (Great deal for hot yoga classes!). The natural tree rubber bottom gives excellent floor traction to helps you transition with ease.
The mat provides just the right balance of comfort and support. It has an outstanding grip when wet to keep down dog in place when your hands are sweaty.
The best part? The water-based ink colors are soothing, and the Chakras pattern is lovely enough to brighten your day.
PROS
Grippy when wet
Backed by a 1 Year Limited Warranty
Plastic-free packaging
Creative and beautiful design by artist
Comes with a yoga mat strap
In partner with Feeding Children Everywhere. With every purchase, Scoria donates a portion of the proceeds to donate meals to hungry children.
CONS
Must spray the mat with water when getting start otherwise hands and feet will slip. (Not ideal to use in dry climate and cold winter)
---
Material: Natural rubber
Thickness and weight: 4mm, 2 kg 
Size: 71″ x 24″ standard
Performance: Grippy surface with texture pattern
Great for: Vinyasa
Manduka EKO Lite Mat is basically a mat that has high performance and doesn't cost the earth.
It is a 100% non-Amazon harvested tree rubber eco-friendly mat. According to the manufacturer, no foaming chemicals were used to make it soft. It's biodegradable too.
It has a textured pattern that provides a grippy surface so you don't have to worry about slipping and sliding during your practice.
The mat comes in the standard size 71″ x 24″, weight around 2kg which is not too heavy to carry between studio and home.
The 4mm thickness is good enough for me because I tend to practice a lot of Vinyasa, I need support but also love to feel the floor beneath. There is a 5mm version with both standard and extra-long sizes.
The Manduka Eko is highly durable. (I've had it for four years now still there's no sign of wear.)
The design and color look beautiful! I love the Blue one, feel like the ocean beneath me.
PRO
Texture pattern offers great grip
A closed-cell surface doesn't absorb sweat and dirt
Work great to carry between home and studio
Durable. I've had it for years and it still looks brand new.
The company takes back your old mat and recycles it for $10 with every mat purchase.
CONS
The mat has a strong rubber odor. you need to be aired out for a few weeks. It will fade with time.
Need a tower on top if you sweat a lot.
Texture surface feel not easy for you to clean
---
Material: Natural rubber
Thickness and weight: 4.78mm, 2.2 kg
Size: 68″ x 24″ standard, wider 28″ and long version 71″, 74"
Performance: Grippy surface, open-celled technology
Great for: Vinyasa/Hot yoga
Eco-friendly (but not perfect)
Jade Harmony Yoga Mat is manufactured using natural rubber; it does not contain harmful phthalates or PVC.
However Ecology Center's Healthy Lap report Jade has a nylon layer on the surface (Which is not ideal because nylon does not biodegradable). [4]
A lot of people praise Jade Yoga Mat for its stickiness. It stays put during hot class and is stable for inversion. The thickness is just right to give cushioning to your knee.
The mat is open cell technology, it absorbs sweat to prevent slipping. Which also means it is not easy to clean thoroughly.
I personally don't use Jade Yoga Mat (But it is recommended quite often by yoga instructors). For some people, Jade begins to feel brittle and crumbling after 2 years.
PRO
Very sticky mat, remain grippy when sweating
Wide range of colors, sizes, and lengths to choose from
Partner with Trees for the Future, Plant a tree for each purchase
CON
Some people report it shown signs of wear after 2 years. (You need to replace it)
Tend to attract dirt, hair which is a nightmare if you have a pet.
Heavy rubber smell, takes several months for the smell to dissipate
---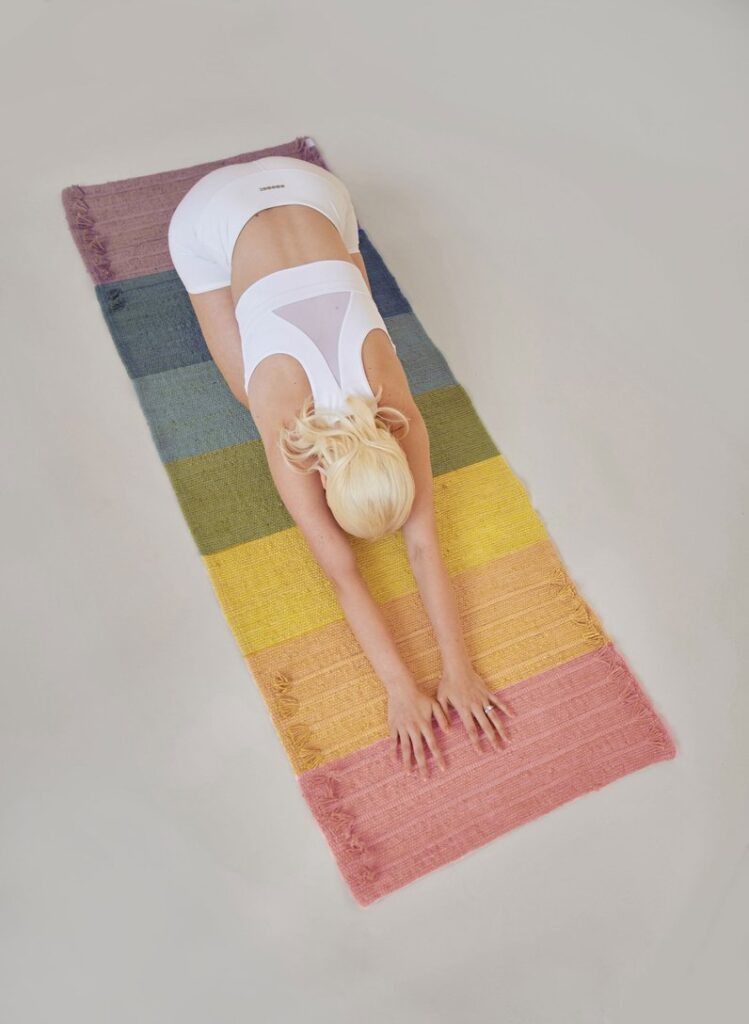 Material: GOTS certified cotton, natural rubber bottom
Thickness and weight: 5mm, 1.5 kg
Size: 72″ x 25″
Performance: Stay put when wet
Great for: Vinyasa, Ashtanga, Hot Yoga, and Meditation
If you don't want the feeling of your head touching the rubber mat in a child's pose this non-toxic mat is for you. The mat's cotton surface feels like a traditional cotton yoga rug, with an Ayurvedic herbal smell. It also contains a natural rubber bottom that provides floor traction, so your down dog will appreciate it.
This mat has a hand-made cotton surface that is GOTS certified and herbal dyed. You know that by purchasing it you support the local Indian to keep traditions of hand-looming alive and limit your carbon footprint.
The bottom of the mat is made of anti-slip rubber and textured channels on top to secure your postures. The ribbing on the hands and feet ensures that you don't slide around while doing warrior or down dog.
When you sweat, the mat becomes sticky, so at first, you may have to concentrate your core more to transition between poses.
The gentle scent of the mat creates a relaxing space for meditation.
PRO
The cotton-top feel great to lie down or sit for meditation
Machine washable
Free of toxic chemicals, natural material, and herbal dyes
Zerowaste packing
The natural smell of Ayurveda herbs
Comes with soap nuts
Little longer and wider leave extra room.
CONS
Need to spray water to prevent slip
Material: Natural Rubber base and Polyurethane top surface.
Thickness and weight: 4.2mm, 2.5 kg
Size: 72″ x 26″ (185cm long x 68cm)
Performance: Very sticky, cushion is just right.
Great for: Vinyasa, Hot Yoga
Eco-friendly (not so great)
The LIFORME original yoga mat contains no toxic chemicals. The bottom portion of the mat is composed of a natural rubber base, with a PU (polyurethane) top surface that provides excellent traction without breaking down quickly. PU is a safer type of plastic and should not leach toxins.
Liforme launched their "Give Back" initiative to give back to the community via several programs such as Planting trees with the help of tree nation. Donating to the world health organization and Yoga Support Fund.
The Liforme has a fantastic grip. It is stickier than many other mats. Because the surface absorbs sweat, your hands will stay firm after getting wet. (It's too sticky sometimes, causing you to slow you down when doing fast-paced sequences).
Another key feature of the Liforme mat is the alignment system. It helps yogi keep their hand and feet in the right place, and instructors can quickly see and correct the student's form.
Because this is a little longer and larger than normal Yoga mats, you'll be more comfortable in your ideal practicing area.
PRO
Great floor grip even on a carpet
The sticky surface so as not to slide around
Features alignment lines to help to correct form
Come with bag
Easy to clean
CON
See the stains on it
Attract pet hair
How to choose a non-toxic yoga mat
Material breakdown. Why do I say no to PVC, TPE, and PER?
PVC
PVC is one of the most toxic plastic. It is a hazardous discharge to the environment and people throughout production till the end of its life. (PVC is not biodegradable and problematic in recycling).
During the production of PVC, poisonous chemicals such as Vinyl chloride must be used, which have been linked to cancer. [1]
The recycling of PVC goods is challenging, therefore it ends up in a landfill. Furthermore, burning PVC generates dioxin into the air. [2]
PVC contains phthalates. Which can cause hormonal imbalance in those who expose to them (labors or nearby neighborhood) which could result in fertility issues, spontaneous abortion, low birth weight babies.
Is using a PVC Yoga mat bad for you?
There is no evidence of health risk when you use a PVC yoga mat because you are not exposed to Vinyl chloride and Dioxin. And people are exposed to phthalates via food and drink items that have been in contact with containers or products containing phthalates. PVC, however, affects the health of the workers and the people who live near the factories. [3]
There are a variety of PVC mats on the market, each one promising to last long. But only a few deliver their promise. Some cheap PVC mat can wear down in a couple of weeks.
If possible avoid purchasing mat made from PVC material.
TPE
TPE (thermoplastic elastomers) is a mix of plastic and rubber. It is a safer alternative to PVC yoga mat for consumers for sure, but not totally toxin-free option. TPE does not contain phthalates and Vinyl chloride however it is still synthetic materials with undisclosed components.
PER
There are some yoga mats that are being advertised as PER yoga mats but actually made from PVC. [4]
PER does not have phthalates but contained DOTP instead which is a less hazardous plasticizer. But due to the fact that lacking data on toxicity testing, we need more research to determine how it impacts the environment and health.
NATURAL RUBBER
Yoga mats made from natural rubber are more eco-friendly because they do not produce harmful greenhouse effects as synthetic mats do. Natural rubber breaks down quickly and easily due to its organic properties so it doesn't remain in landfills for long periods of time.
The process of converting latex into rubber, which includes the addition of chemical fillers to make it more durable. As a result, a natural rubber yoga mat is not entirely free from toxins.
If you are allergic to latex, a natural rubber yoga mat is not an option.
COTTON
Traditionally cotton yoga rugs are used in ashtanga practice. It can be rolled out to use or store easily plus you can throw it in the wash.
Cotton is eco-friendly or not depend on the source and the dying process. That's when textile certification comes in to make sure the cotton is non-toxic.
Because cotton alone isn't thick enough for practice on the hard floor, a rubber mat placed on the bottom is necessary. If you don't want to go with that option, search for a cotton yoga mat with an organic rubber bottom.
JUTE
Jute material is used for yoga mats for the reason that they offer better grip and are stronger than cotton fiber. (Just is also more sustainable than cotton because it uses less water and fertilizer)
If you use a yoga mat made entirely of Jute, it will not provide adequate cushion for your yoga practice. As a result, it's common to add natural rubber or PER to improve grip and cushion.
Look for a Jute yoga mat with natural rubber bottom instead of a PER one.
CORK
A cork is one of the most sustainable materials. It is made from the bark of the cork oak tree's outer layer. This layer of bark is harvested every 9-12 years so that it has time to develop.
Cork is lightweight, does not slip when wet, and is antimicrobial, ensuring that germs do not develop on a yoga mat. All of these qualities combined make the cork yoga mat perfect for any yoga enthusiast.
Another interesting thing about cork is it is a carbon-negative product. [5]
A cork yoga mat usually is a combination of cork and natural rubber bottom to prevent slippering.
FAQ
Why choose non-toxic yoga mats?
With the growing need for yoga mats, the production of yoga mats has increased in order to meet market demands. However, yoga mats are made from synthetic rubber such as PVC is harmful to the environment. PVC manufacturing produces hundreds of thousands of pounds of toxic chemicals into the air every year.
OUR VERDICT
So I've gone over the 5 best non-toxic yoga mats on the market.
And my current favorite is the Scoria Chakras Alignment Cork Yoga Mat. It is made from a sustainable source of cork and natural rubber free of toxic chemicals provides great grips to keep you from slipping during practice.
Plus this mat comes great chakras alignment design that gives extra energy when you look at it!
You can check out this product by clicking here because what better time than now to start practicing more mindful movements?
References:
[1] https://www.cancer.gov/about-cancer/causes-prevention/risk/substances/vinyl-chloride
[2] https://www.motherearthnews.com/green-homes/the-vinyl-debate
[3] https://www.cdc.gov/biomonitoring/pdf/Pthalates_FactSheet.pdf
[4] https://www.ecocenter.org/healthy-stuff/reports/yoga-mats-2019
[5] https://www.sustainablejungle.com/sustainable-fashion/what-is-cork-fabric/