Whether you are getting deep into yoga and want to sweat in your own mat? Or do you think it is time to upgrade your gear to inspire you to unroll your mat every day? And, find it is difficult to choose the right yoga mat. This guide is for you.
I bought my first cheap PVC yoga mat and ended up tossing it because it became slick and wore out after a few months.
The next mat I invest in is Liforme Yoga Travel Yoga Mat. It's super sticky, comes with the alignment system (which I need to correct my form). I can carry my mat to the studio, workshop with ease. However, when I practice at home, it does not have an adequate cushion on the hard floor.
So, I'll have to find another practice mat. My hand is never sweaty; I'm getting better at engaging my core, therefore I don't need a super sticky mat. An eco-friendly with decent support, durable, and easy to clean is my priority. My next choice is Manduka Eko which I practice more often and I have had it for 4 years it still looks new.
Enough talking.
In this blog post, we will talk about 3 KEY things you need to consider when shopping for a new yoga mat, as well as provide some information on our favorite brands. If you're ready to start doing yoga in style then read on!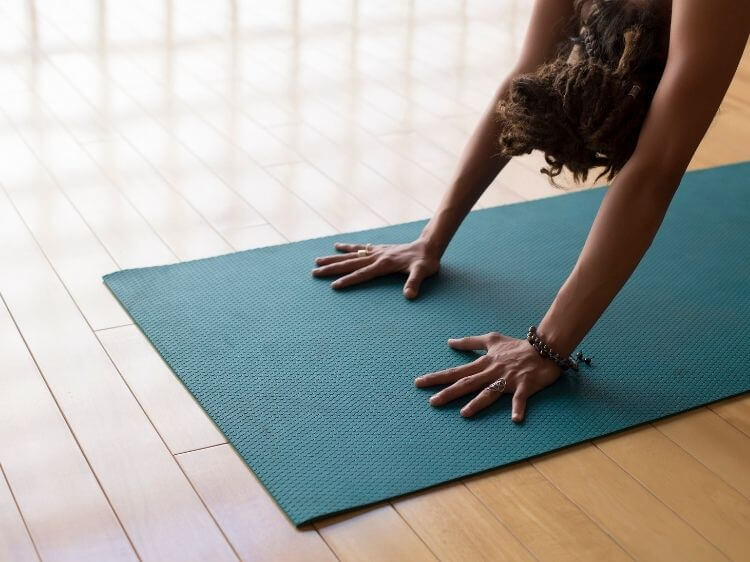 When it comes to choosing a good yoga mat. The mat stickiness, cushioning, and portability are key factors. If the mat is not sticky you throw your money out of the window. You need mats that give a good grip so you don't slip and slide during your practice. A good mat should be cushy enough to provide support for your knee. (Especially if you enjoy Yin or Restorative yoga when you need to hold the pose longer).
However, if you want to travel with your mat, you need a lightweight one to carry around easily. (Which means less cushioning).
And many yogis want to look for an eco-friendly mat that has a low impact on the environment.
With so many options available on the market. Here are few questions to ask yourself to figure out what you need before taking the next step of choosing your yoga mat.
Before you buy a yoga mat, consider these questions
How long have you been practicing yoga?
If you're new to yoga, you'll need a mat with excellent traction so that you can stay in position while performing your down dog. You need a thick mat (5-8mm) to support your join when you hold some kneeling poses.
When you get more experienced with yoga. You become stronger and learn how to use muscles that don't need a sticky mat. And not too thick so you won't sink during your Vinyasa flow sequence.
Where do you want to practice?
You don't need to be concerned about weight if you do yoga at home. Choose a cushiony and comfy mat. You'll need a thicker mat for a hardwood floor than for carpet.
Choose a mat that's not too heavy and simple to roll if you want to transport your mat from home to the yoga studio on a regular basis.
Are you planning to take your yoga mat with you when traveling so that you can do yoga on the road? If so, a lightweight travel yoga mat is ideal.
Which style of yoga do you practice?
In dynamic yoga styles like Vinyasa, Ashtanga, Power classes you need to move from pose to pose. As a result of this, a mat with good traction helps to keep you steady while also absorbing sweat to prevent slipping.
If you do gentle style like Yin, Restorative, most postures are seat and lie down so look for a cushy mat.
What is your budget?
Yoga mat prices vary from basic $10 PVC mat to high-end mat which cost more than 100$.
PVC yoga mat is popular as a low-cost option, but it should be avoided because of the harmful effects of PVC materials. It wears out fast (you'll need to replace it sooner or later).
With $40 you get a decent yoga mat that has good grip cushioning.
If you are willing to pay some extra dough, opt for eco-friendly material, raise texture, and beautiful print.
The most important things when it comes to choosing a yoga mat are the thickness, stickiness, and material.
3 KEY Considerations when choosing a yoga mat.
Thickness and weight
Yoga mats come in different thicknesses and weights. Range from super-thin lightweight travel mat to cushy mat that weighs up to 4kg.
A standard thickness yoga mat is usually 3-4mm which work for most yoga style. It enables stability for fast-paced flow while offering a decent amount of cushioning.
If you practice yoga on a hard floor, a thicker mat may be better for your join. (Especially if you have sensitive knee)
A 6mm yoga mat is considered thick. It provides excellent knee and sitting-bone comfort (which is great for restorative and yin yoga). A thick mat tends to last longer than a thinner one. However, in certain postures, such as eagle pose or side plank, it may be hard to keep balance because of its thickness. Thick mat also weighs more so it is heavy to carry around.
A thin mat (Less than 3mm) provides solid contact to the floor, which is good if you do a lot of standing sequences. Thin mat lacks cushioning, so when your knee hits the floor, you may not feel safe in crescent lunge. If you plan to travel, a super thin and lightweight travel mat is a good choice. Some mats you can fold and pack in your backpack or suitcase.
Summarize in chart
| | Thickness | Weight | Good for |
| --- | --- | --- | --- |
| Thin | 1.5mm to 2.5mm | 1kg ~ 1.6kg | Travel |
| Standard | 3mm to 5mm | 2 ~ 3kg | Carry between home & studio |
| Thick | 6mm to 8mm | Above 3kg | Store at home or studio |
Yoga mat thickness and weight chart
Material
Materials of yoga mat are important because it effects:
The stickiness of the mat when wet/dry.
How it wears out over time.
Environment impact. Is it recyclable and biodegradable?
How easy to clean.
Does the price break your bank?
Standard yoga mat tends to be made from PVC material which is cheap, offer good traction but isn't always recyclable. Cheap PVC mats become slippery when you get sweat during practice and peel off over time and you end up throwing it. Except for a few high-quality PVC mats on the market that are free of toxic phthalates and comes with a lifetime guarantee.
TPE mat is a combination of rubber and plastic, which is more eco-friendly than PVC and can recycle after use. TPE mat is getting more popular because it is less harmful, lightweight, cushy, and latex-free.
Another material used to make yoga mats is PER. It's not as toxic as PVC yoga mat. Some yoga mats made of cork or jute are often imprinted with PER as the bottom.
If you want to avoid using plastic, consider investing in a rubber mat. Natural rubber mats are a fantastic choice for sweaty hands since they offer excellent floor traction. It's also comfortable and supportive. Rubber mats have the disadvantage of being heavy, pricey, and having a rubbery odor after the first few weeks.
Another option for a non-toxic yoga mat is to try cork yoga mat. Most cork yoga mat has the surface made from cork and natural rubber as bottom. Cork material is non-slip and soothing, and its natural property is antimicrobial which is great to rest on savasana.
An eco-friendly mat does not have to be expensive if you seek out options made from jute. Jute yoga mat provides good stability. The natural fiber offers a stylish look to the yoga mat but can feel a little bit harsh. Jute material is not good for hot classes because the surface is not smooth and gets slightly slippier when wet.
If you like a yoga mat that is odor-free, light-weight, and easy to carry. You may also consider purchasing a cotton mat.
Quick material comparison chart (most used materials in yoga mat)
| | PVC | TPE | Natural Rubber (latex) | Cork on rubber | Jute on rubber |
| --- | --- | --- | --- | --- | --- |
| Grip | Good, Slick when sweat | Good | Great | Good, Increase grips when wet | Medium, Slightly slippery when wet |
| Durability | Great, Cheap one wear out fast | Medium | Good | Good | Good |
| Weight | Heavy | Lightweight | Heavy | Heavy | Medium |
| Eco-friendly | Not biodegrable, Not always recycled | Biodegradble & Recyclable | Biodegradble & recycleable | Biodegradble & Recycleable & Renewable | Biodegradble & Recycleable & Renewable |
| Clean | Attract dirt, easy to clean | Attract dirt, easy to clean | Easy to clean | Antimicrobial Easiest to clean | Easy to brush |
| Cost | Cheap | Medium | High | High | Medium |
Yoga mat material comparision chart
But nowadays, yoga mat tends to mix materials to create better performance. For example, a Polyurethan material use at the top over the natural rubber bottom for a grippy mat. Or cork over TPE to make it lighter.
So, the table is for quick referencing. You may need to look more carefully into the detailed specification of a mat to know more.
Non-slip surface
The key feature of a yoga mat is how sticky the mat is to help you move safely between poses and maintain proper alignment.
Besides the material, the textured surface affects the grip of the mat. Raised, tactile pattern texture offers better grip than smooth.
SIZE
A standard yoga mat size is 60cm x 180cm (68 x 24 inches) works well for most people. But if you are tall, look for a super stretch yoga mat 215cm (85 x 26 inches) long.
Read more detail on how to choose the right size for your mat.
Suggestion
Compare to other fitness styles like running, cycling. Yoga requires a minimum gear to get started. If you spend ~100$ on a yoga mat that lasts for several years, your money is well spent. The list below combines my experiences and several yogi and instructors that I meet on my journey.
Liforme Yoga Mat
Liforme Yoga Mat is made from non-toxic materials with natural rubber as bottom and eco-polyurethane top surface. This means you have a lot of floor grip and a sticky surface that protects you from slip and slide. Liforme is the first company that invented the beautiful alignment system that is helpful for beginners. Even an experienced yogi who wants to carry a yoga mat to the workshop (Alignment line helps instructors correct your form easily).
Material: Polyurethane top and natural rubber as the bottom.
Thickness: 4.2mm
Weight: 2.5kg
Size: 185cm long x 68cm wide
Price: $160
Surface: Smooth
Clean: Sticky surface can attract dirt, but it is easy to clean
Eco-friendly: PVC free, non-toxic material, biodegradable
Manduka Pro
Manduka Pro is named "yoga mat for life", stay #1 most loved yoga mat among yoga teachers. Famous for its durability can last a decade of usage with the same performance. The mat is 6mm thick give plenty of support for your join, it grips to the floor well. Made from high-quality PVC and comes under a lifetime guarantee. The Manduka Pro is heavy which suitable to store in-home or studio. The alternative option is the Pro-Lite version if you want to carry your mat around.
Material: PVC (certified OEKO-TEX®️), 100% latex free
Thickness: 6mm
Weight: 3.4kg
Size: 185cm long x 68cm wide. Extraversion is 216cm long
Price: $120
Surface: Texture surface
Clean: Easy to clean with water and essential oil
Eco-friendly: Recycle through Manduka LiveOn program
Jade Harmony
When it comes to stickiness, it is hard to beat Jade's yoga mat. The open cell technology makes the surface absorbs sweat so it works well in sweaty class. The 4.7mm provides enough balance between cushioning and stability.
Material: Natural rubber
Thickness: 4.7mm
Weight: 2.07kg
Size: 185cm long x 68cm wide. Extraversion 216cm long
Price: $80
Surface: Natural surface
Clean: Need to deep cleaning because of the open-cell structure
Eco-friendly: Recyclable and Biodegradable, Jade plant a tree for every mat sell
Lululemon reversible mat
Lululemon reversible mat is the best for multiple uses. It works from yoga class to CrossFit. Wick sweat, stay sticky in a hot class. The good padding makes less stress on your wrists. Comes at an affordable price.
Material: Natural rubber on the bottom, thin polyurethane on top
Thickness: 5mm
Weight: 2.47kg
Size: 185cm long x 68cm wide. Extra-long 216cm
Price: $70
Surface: Smooth surface
Clean: Easy to clean
Eco-friendly: Recyclable and Biodegradable
Yoloha Unity Cork Yoga Mat
Look for a yoga mat that does good for the world, try Yoloha Native Cork mat. The cork material gives good traction when sweat, the rubber bottom sets a strong connection to the floor. The 5mm thickness give comfort on both hardwood and carpet floor.
Material: Natural rubber on the bottom, cork on top
Thickness: 6.5mm
Weight: 2.72kg
Size: 185cm long x 68cm wide
Price: $149
Surface: Smooth surface
Clean: Easy to clean
Eco-friendly: Recyclable and Biodegradable
The bottom line
I hope you found this information useful when deciding on the best yoga mat for you. If you're still unsure what type of yoga mat is appropriate for you, check out our roundup review of the 7 best yoga mats for beginners.
In the meantime, don't forget to read the next article on Yoga Mat Alternatives. You'll find some great alternatives like a towel or simply using your bare hands for your practice.