Are you new to yoga? Have you been practicing for a while, but still find yourself struggling with your balance or alignment? If so, you might want to invest in a quality yoga mat to maximize your practice.
If you looking for such a mat, the LIFORME Original Yoga Mat is the best overall choice.
We've also done research on yoga mats available on the market and reviewed the best yoga mats for beginners. This article will give you a list of all the top choices for every budget! You'll learn about what makes each mat different, its pros and cons, and which one is right for your needs.
Let's get start.
Our Best Yoga Mat For Beginner
7 Best Yoga Mat for Beginners Reviewd
LIFORME Original Yoga Mat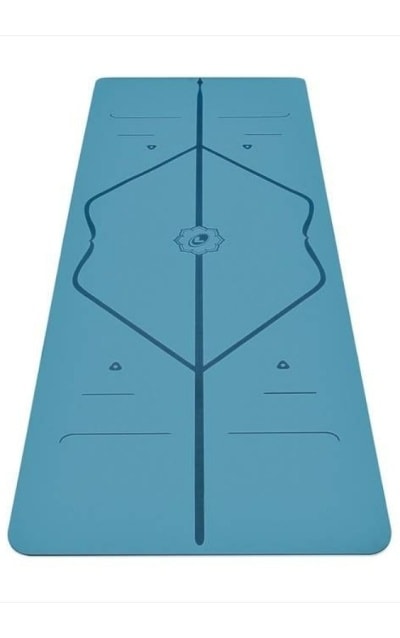 The LIFORME Original Yoga Mat is a high-quality mat that will last with you for years to come.
This natural rubber mat has a great floor grip and helps you to stay grounded during your practice. It has a PU top layer that absorbs sweat and moisture, allowing you to concentrate on your down dog without worrying about slipping or sliding around.
Another great feature of this yoga mat is its alignment system, which allows you to position your hands and feet (very helpful for beginners). Yoga instructors can correct your form and alignment to help you develop a strong and steady yoga practice.
This Yoga Mat is longer and wider than most standard mats on the market. With its lengthy length, you won't have to curl up your legs while in Savasana, as is often the case when your mat isn't long enough.
Pros
Grips well on sweaty surfaces
Compliment yoga mat strap for transport
Smooth surface makes it easy to clean
Alignment markers help beginners position their hands and feet properly
Extra-long and extra-wide for maximum comfort
Cons
Slightly heavy, might not be easy to carry around during travel
If you don't clean it often, signs of stain may appear.
Manduka Pro Yoga Mat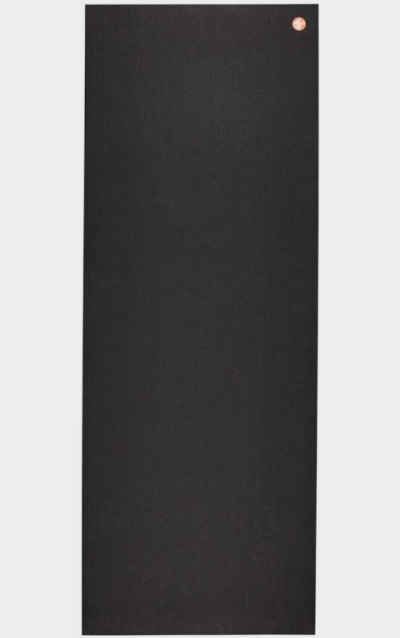 If you're looking for a yoga mat that will last a long time, Manduka Pro is the way to go. It has become quite popular among yoga practitioners and instructors because of its longevity. After years of use, it shows no indication of deterioration, peeling, or flaking.
This high-quality PVC yoga mat won't fall apart as easily as the low-cost PVC yoga mat, and it has a lifetime guarantee. It won't soak up your sweat because of its closed-cell surface, and you can simply clean it away after practice.
With 6mm thickness, it offers extra cushioning for knees and wrists while practicing and you don't feel the floor underneath when you lie down. The material is firm enough to provide support for balance but still smooth enough not to cause any discomfort.
The performance of this yoga mat improves with time. If your hands are sweaty, a yoga towel may help you get a grip.
Choose between a regular (71″ x 26″) or an extra-long (85″ x 26″) size depending on your height.
The downside of this mat is that it is heavy and difficult to carry.
Pros:
Yoga mat for life – strong and durable.
Backed by a lifetime warranty
A closed-cell surface won't soak up your sweat. Easy to clean.
Thick enough to provide extra support without feeling unstable.
Come with an extra-long version
Improve its performance overtime
Cons:
Heavy and difficult to carry around
Breaking in is necessary to make it more sticky.
Sweaty hands may need to use a yoga towel to grip
Gaiam Premium 6mm Print Reversible Yoga Mat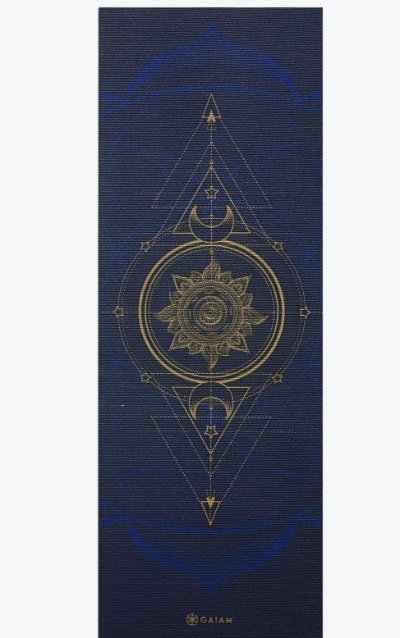 Gaiam Premium 6mm Print Reversible Yoga Mat is a budget-friendly option for beginners. You can choose from a wide selection of beautiful patterns, and it's reversible, you can choose which side fits your mood.
The mat is made of PVC. It is free of phthalates without sacrificing durability or stability. It comes with a lifetime guarantee on their website so there's no risk in trying this product.
This yoga mat has a cushioned 6mm (1/4″) thickness, making it particularly comfortable for your knees. It is light and portable, so you can easily bring it to yoga class.
However, there is only 1 available size 68×24″ (173x61cm), which is not enough length for taller yogis.
Pros
Tons of great designs to choose from
Great thickness (6mm), provides great comfort.
Lightweight and easy to carry around.
Bonus of free downloadable yoga classes.
Cons
If you sweat a lot, the sticky may not be as effective as you would like.
Has plastic smell, you need to air it out
Limited choice of size
Heathyoga TPE Body Alignment System Yoga Mat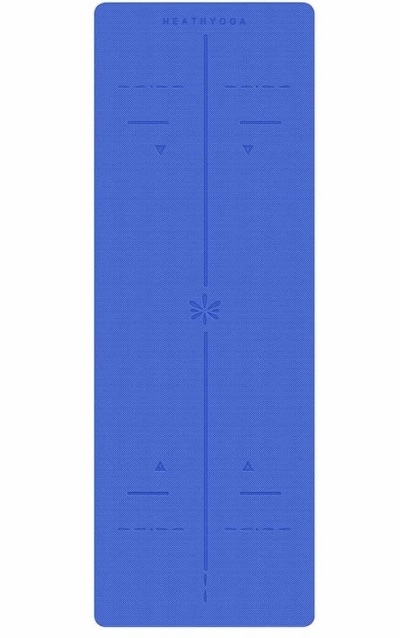 Heathyoga Yoga Non-Slip Mat with Body Alignment System is another beginner-friendly option that doesn't break the bank.
The micro-dot textured non-slip surface and optimal 6mm cushioning provide a decent grip and comfort for your body while you're in a downward dog pose or doing headstands. The mat is 72″x26″ give you enough space to feel comfortable when you lie down on your back.
The best feature of this mat is the body alignment system to ensure you properly position your hands and feet.
Made of TPE material, which makes it lightweight. But In my opinion, it is not eco-friendly because it is still plastic.
Pros
Wide range of colors to choose from
Extra room for your space
Micro-dot on the top to give extra grip
Features alignment line for correct your form
Great customer service
Cons
Slippery in down dog when wet, does not stay in place on the carpet floor
You might need to be replaced after two years of usage.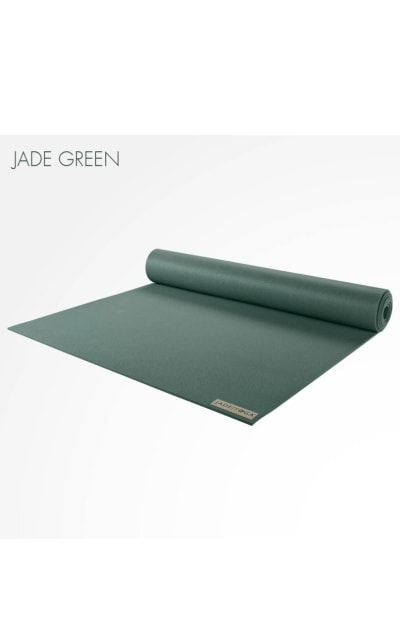 The Jade Harmony Yoga Mat has a great grip for all weather conditions, so you won't have to worry about sliding and slipping on your yoga mat. Because the open-cell surface absorbs swat, this mat keeps its performance when wet.
A 3/16 inch thickness provides enough support for your joints on the floor during any sort of activity or stretch.
It's a rubber mat that is biodegradable. Jade plants a tree with Trees for the Future whenever you buy a mat.
The Yoga Mat is offered in a variety of colors, including purple, pink, blue, black, and green. You may also pick a 71″, 74″ or 79″ length and a 28″ extra-wide option.
Pros
There are sizes for all people, from short to tall.
Stay grip even sweaty hand
Dozen of colors
Natural rubber, biodegradable
Tree plant for every mat purchase
Cons
Heavy smell
Very sticky that it attracts cat hair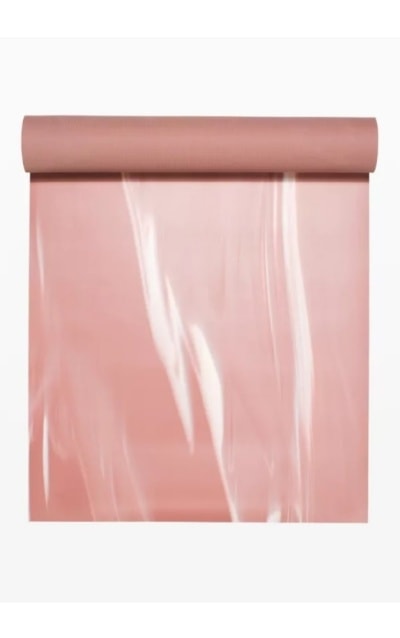 The Lululemon Reversible Mat has a polyurethane top layer and a natural rubber base that provides grip and cushioning on hardwood floors, carpeted surfaces, and even concrete floors. The surface helps keep your hands dry by repelling sweat during hot yoga sessions. Plus it's reversible so you can choose which side fits your style of practice. The PU side is great for sweaty flows while the rubber base is good for low-paced practice.
The size of this mat is 66 cm x 180 cm (26″ x 71″) which is a great size for most people. It's 5mm thick enough to provide cushioning while remaining thin enough to transport.
You can select from a variety of colors to ensure that you get the best color for your taste.
Pros
Not slippery in hot class or hot weather.
Attractive design
Versatile. Can be used on both sides.
Cons
Take a week to air out the strong rubber smell
Stain easily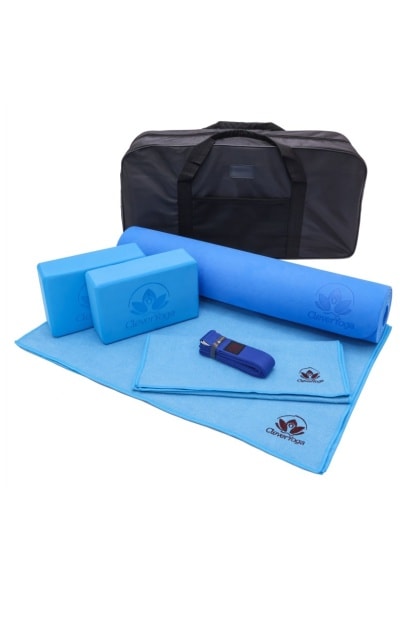 Clever Yoga Set is the best beginner's kit to get you started with your yoga practice. The 6mm thick yoga mat in the Clever Yoga Set offers plenty of cushioning while still being lightweight. It also includes two yoga blocks, a yoga strap to assist you to get into poses. In addition to these essentials, Clever has included a yogi towel, hand towel, and a carry bag to fit the entire kit!
Pros
You get all the gear you need to start practicing yoga.
Excellent value for beginner yogis.
Cons
When your hands are wet, the yoga mat becomes slippery.
What to look for when choosing a yoga mat
Material
The material of your yoga mat has a significant impact on how you feel, how long it lasts, and whether or not you enjoy practicing on it. Most yoga mats are constructed from natural rubber or synthetic rubber materials such as PVC or TPE.
Natural Rubber is a good yoga mat material because it has a sticky, grabby surface and is biodegradable; But people are allergic to latex, so rubber mat is to avoid. PVC and TPE are low-cost alternatives that lack grip and stickiness, making them difficult to use when practicing hot yoga or other high-intensity routines. Cotton yoga mats are more eco-friendly, but they're not as popular since it's difficult to get a good grip on cotton and their life span is shorter than those of other types of mats. Cork is the most sustainable choice; they provide excellent grip, comfort, and lightweight while being equally durable.
The improved technology has made it easier to combine different materials in yoga mats. Take a look at our detailed guide on how to pick the right yoga mat.
Non-slip surface
The anti-slip surface is one of the most important features of a yoga mat, especially if you're sweating a lot during practice. If a yoga mat isn't sticky, your investment will be a waste of money. Look for a yoga mat that is made with a textured pattern or extra grip surface.
Thickness & Portability
The thickness gives great support however it can interfere with stability in balancing poses, choose 6mm if you practice on a hard floor or concrete floor. If you like to travel or carry your yoga mat in a gym bag, consider a lightweight yoga mat.
Size
If you're taller, you'll need a larger mat. The wider and longer your mat is, the more comfortable it will be. It's also important to think about how much room you'll need at the end of your mat to lie down comfortably during savasana.
Read more detail on What size of yoga mat do you need
FAQ
How thick should a beginner yoga mat be?
Beginner yoga mats should be at least 5mm thick to provide ample cushioning and support. However, if you practice on a hardwood floor or have sensitive knee joints, 6mm thicker versions may be more comfortable. Thicker mats are usually heavier, so if you want to carry yours between classes, go for a 3-4mm thinner model.
What should I look for when buying a yoga mat?
Depending on where you want to practice, which style, how often, and do you plan to carry your mat around. You might consider the mat stickiness, thickness, material, and portability. If you do more active style an extra grip mat is essential, but if you only like gentle style yoga look for a thick mat. A lightweight mat is a good choice for carrying between home and studio.
What is the best yoga mat brand?
The best yoga mat brands, in my opinion, are Manduka, Lululemon, and Liforme. I own a Manduka and Liforme yoga mat. They're both rather pricey, but they've been with me for over four years. Other lesser-known companies provide environmentally friendly cork yoga mats as well.
Conclusion
So we've gone through the 7 best yoga mat options that are great for beginners.
The best yoga mat for beginners must have a non-slip surface for safety practice, alignment lines to assist you to maintain proper form, and the right balance of portability and cushion. Because it offers all of these features as well as being long-lasting, Liforme's Original Yoga Mat is our top pick.
We hope this article helped you make an informed decision about what type of mat would be most suitable for your practice!