Are you a yogi who loves to travel? If so, you know that finding the perfect yoga mat can be a challenge. You need a mat that's lightweight, easy to pack and carry but still provides enough stability for your poses. So which one should you get? This article is about the best travel yoga mats to take on the road.
There are 4 main factors to consider when choosing a yoga mat for travel. These are lightweight, easily portable, sticky surfaces, and durable. (Read more detail on what to look for when choosing a yoga travel mat).
If you looking for a travel yoga mat that ticks all the boxes Yogo Ultralight Folding Travel Mat is the best overall choice.
I've also reviewed the best travel yoga mats on the market. The selection is based on reviews, personal experience, and recommendations from trusted yogi friends. So in no particular order here are the best yoga mats for traveling!
Keep on reading to find out the pros and cons of each mat. And at the end of this article, you'll find a comparison chart to help you choose the best travel yoga mat for your needs.
The Top 7 Best Travel Yoga Mats
Best Overall: Yogo Ultralight Folding Travel Mat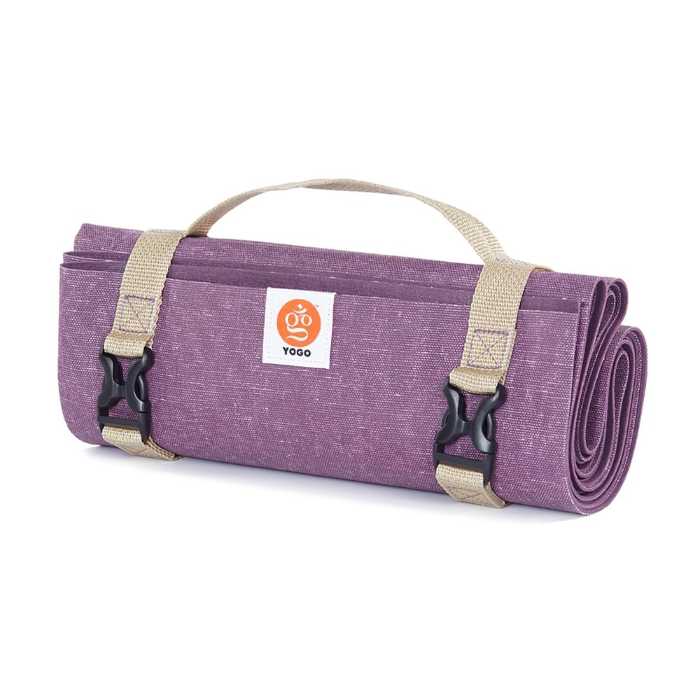 Yoga Ultralight Folding Yoga Mat is a fantastic mat for traveling. This yoga mat is one of the most compact mats in the market, fitting into any small backpack without much hassle. Weighing just 2.1 lbs (0.95 kg) and can be folded into a newspaper shape, this is the ideal travel companion for a month-long journey.
The mat has a good grip and traction on most surfaces, including wood flooring and carpet. Made of natural rubber, which is ecologically beneficial and does not wear out easily.
This folding mat features a strap attached to the side for easier storage in your luggage, bike, or your car.
Another highlight of the mat is that it comes in 2 sizes. Standard (68" x 24") and extra-long (72" x 29″) for taller people.
PROS:
Super compact. Easy to carry around.
Easy to clean. Hang dry using the attached strap.
Durable. You won't have to replace this travel yoga mat often.
CONS:
It is more expensive than the other high-end equivalent mats.
It's a little slippery for hot yoga, so use a non-slip towel.
Budget Option: Gaiam Foldable Yoga Mat
The Gaiam Travel Mat is our budget travel yoga mat to keep practicing yoga on the go. While it is 2mm thin, it is lighter than other mats (weighs only 2 pounds). This mat folds into a small square and fits easily in your carry-on or tote bag. You can travel with it to the studio, weekend getaways, extended retreats, or trips across town.
This mat is both functional and fashionable. It has a texture pattern that will keep you stable in poses. And comes in a variety of colorful designs is sure to stand out in any setting.
Made from PVC material which makes the mat lighter but is not as sticky as natural rubber. There are complaints about slipping when sweating.
Gaiam foldable yoga mat comes with a lifetime guarantee so you don't have to worry about your mat wearing out.
PROS:
An affordable option for the quality you're getting.
Lightweight, foldable, and easy to carry around.
Comes in different designs & colors.
Features a sticky texture that provides stable footing.
Lifetime guarantee.
CONS:
Slippery when wet, not recommended for hot yoga
ight chemical odor, diminished with time
The paint is easily rubbing off.
Lightweight: Jade Voyager Yoga Mat
The Jade Voyager lightweight yoga mat is one of the lightest mats on the market. It is less than 1/16th of an inch thick and weighs less than 2 pounds. This makes it easy to fold up and store in your luggage or carry-on bag. The thin travel mat isn't designed to be used on a daily basis, but it would work well for special events like travel.
Like other Jade mats, Jade Voyager provides great grip. It is super sticky that is great for balancing series, however, this is a very thin yoga mat you might need a yoga towel as padding on hard surfaces.
Buying a Jade yoga mat is good for the company as well as the earth. How? The company plants a tree for every mat sold.
PROS
• Ultra-lightweight mat. Great for travel.
• Fold into a yoga block size.
• Super grip to help hold poses comfortably
• Eco-friendly mat that plants trees for every mat sold.
• All Jade Yoga mats are made in the USA!
CONS
Show dirt easily
Needs yoga towels underneath when on hard surfaces.
Value for Money: Manduka eko Superlite Travel Yoga Mat
If traveling light is a priority, the Manduka eko Superlite Travel Yoga Mat is a fantastic option. It's grippy, folds up compactly, and is lightweight, making it ideal for travel but doesn't sacrifice workout days.
Manduka mats are well known for their highly durable material, this mat is no exception. It resists tearing and stretching. Made from biodegradable, 100% natural tree rubber with non-toxic foaming agents and no harmful plasticizers.
You don't have to worry about slipping thanks to its sticky texture surface. It keeps your hands and feet stay in place when you start sweating. The surface does not absorb sweat, making it simple to maintain clean.
Another highlight about Manduka travel mat is it comes in a wide selection of patterns and colors.
PROS
• Sustainable. Made from biodegradable, 100% natural tree rubber
• Longer (79″) than other travel yoga mats
• Wonderful portable. Foldable and fit in most carry-ons
• Provides excellent grip
• Closed-cell surface prevents sweat from seeping into the mat
• Different designs to choose from
CONS:
Strong rubber smell, fade away overtime
Need break-in period, The mat grip improves with each use
Flexible option: Lululemon (Un) mat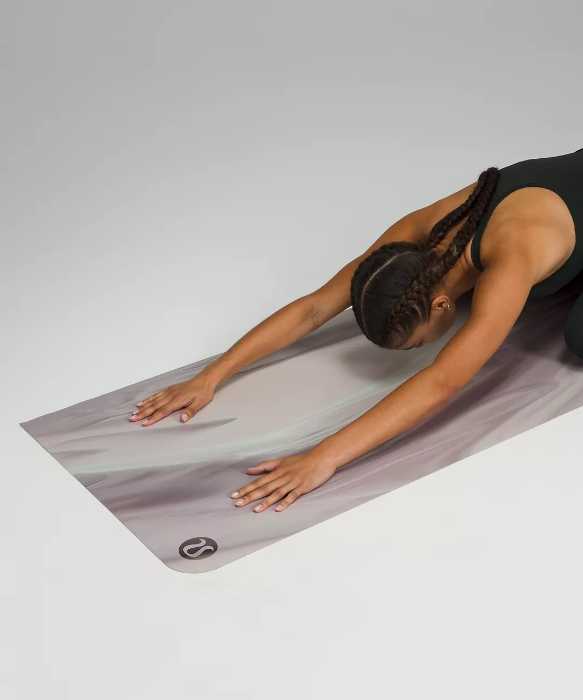 The Lululemon (UN) mat is a lightweight version of the reversible mat (1.5mm). It provides excellent grip thanks to its material. It has a top layer that absorbs moisture so you can grip it during practice, and it also has rubber on the bottom that keeps it from sliding around.
There are no odors because there are chemicals in the mat that will keep mold away. The smooth surface helps it easy to wipe down with wet wipes.
The design of this yoga mat is pretty cool. You can get it in a couple of different colors.
This model, however, is not as simple to fold up as other travel mats. Some consumers have claimed that the surface of the mat becomes creased when folded.
PROS
• Travel friendly
• Great grip on different surfaces
• Anti-slip and a moisture-absorbent top layer
• Stylist design
CONS:
Expect stain from oils on your skin but wipe off easily
Rubber smell when unbox, fade away overtime
Machine Washable: Yoga Design Lab Travel Mat
Yoga Design Lab's Travel Mat is made from recycled materials. It has a top layer made of recycled polyester microfiber to save 15 bottles from going into landfills, and a bottom layer of natural tree rubber which provides great grip.
This mat might slip at first, but the more you sweat on it, the better it grips! You can wash this in your washing machine or with hand-washing to keep it in good condition for longer.
Another highlight is the mat has a beautiful geometric pattern that soothes your eyes.
The mat is foldable, but not as simple to store as other folding yoga mats on the market. Finding room in your luggage can be difficult, but this mat has a strap for transporting it, so you may relocate it around.
PROS
• Made from recycled materials
• Great grip for sweaty hands
• Machine washable
• Carry strap to make packing easy and compact
• Fun geometric pattern soothes your eyes
CONS
• Might slip at first, but the more you sweat on it, the better it grips
Great for Hot Yoga: Liforme Travel Yoga Mat
Liforme Travel Yoga Mat is a great option to consider when you want to practice yoga on the go. It's lightweight, portable, and biodegradable too. This sticky mat features extra grip material and an alignment design which helps your pose even better!
It is heavier than other travel yoga mats but it is one of the grippiest mats available on the market. Plus the alignment lines help to correct body positioning. It is a good option if you travel less frequently like a yoga retreat.
The downside of this product is its high price tag but it will be worth every penny because there are many different colors available in addition to designs that make for an attractive space for yoga too.
PROS
• No slippage. Great for hot yoga practices.
• Comes with a yoga mat bag
• Elegant and stylish design
• Eco-friendly material that is PVC free
CONS
• More expensive than other travel yoga mats
What to look for when picking a Travel Yoga Mat?
Lightweight
When it comes to choosing a yoga mat to carry with you on the go, the most important aspect is its weight. The lighter the mat is, the easier it'll be for you to travel with.
Most travel yoga mats weigh around 2.2 pounds (1 kilogram). That's light enough to easily fit in your bag without adding too much weight.
Even though they're lighter, travel yoga mats are made of the same high-quality material as regular mats. You won't have to sacrifice stability because of its weight.
Portable
Travel yoga mats should be compact enough to fit in your bag or suitcase without taking too much space. While most yoga mats can roll up pretty small, some foldable yoga mats take up even less space just like a pair of jeans.
Stickiness
A grippy mat is a must-have for anyone who wants to maintain stability throughout their yoga practice. If your mat slips during class, it can interfere with your balance and place too much pressure on the joints.
Look for non-slip surfaces or texture patterns to prevent sliding when you move.
Durability
A travel yoga mat should be able to withstand the wear and tear of being rolled up, stored away, or moved around. Travel mats are designed to last for several years on average.
Comparison chart
Our Verdict
If you want to keep your yoga practice while traveling the best yoga mat overall is Yogo Ultralight Travel Mat. Slightly higher price than other options, but you get what you pay for with the Yogo mat. It offers an amazing grip and is a lightweight, foldable mat that packs easily into your carry-on.
I hope this article helps you make an informed decision when choosing the best travel yoga mat for you.
As always, thanks for reading and Namaste!