It's hard to perfect your downward dog when it feels like you are constantly slipping off your yoga mat. Do not settle for a mat with no grip that makes your hands and feet slip every which way.
Yoga is a workout. I don't care what your CrossFit friends say, and you are sweating if you are doing it right! As a fellow sweaty-palm-sufferer, I have compiled a list of the 7 best non-slip yoga mats that are slip-resistant and provide excellent traction.
I have picked Lululemon's reversible yoga mat as my number one to keep your feet and hands from sliding around. The selection takes into account yogi reviews, recommendations, and the specs of these seven mats.
I created this list with several aspects in mind, but my number one concern was, of course, how slip-resistant the mat was during a sweaty yoga session. I don't feel that I have had a significant session unless I have some beads of sweat rolling down my back. And I'll explain the reasons further.
My Top Pick: Lululemon's Reversible Yoga Mat
Lululemon's reversible yoga mat is catching on with yogis on youtube and probably some people in your yoga class too! It's easy to chalk it up to Lululemon's brand power. This mat makes you feel like you're doing yoga on a cloud while still giving you the stickiness and grip you need to have a fantastic session.
If you aren't sold on Lululemon's mat yet, check out these other mats:
Let me break down the features of all these mats for you to help you understand what the best option is for your yogi style. By the end of this, you'll say sayonara to slippery mats!
The 7 Best-Non Slip Yoga Mats
Lululemon The Reversible Mat – Best Overall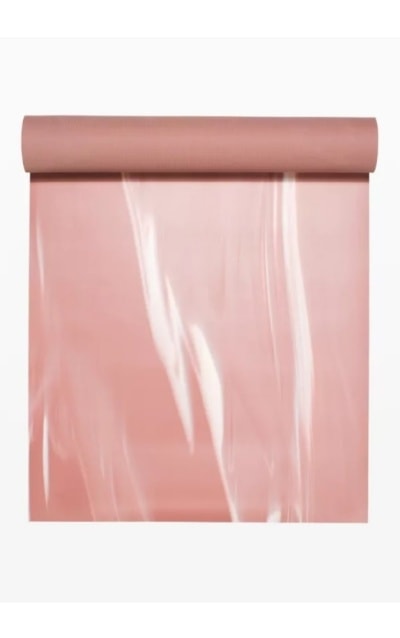 Yogis everywhere are falling in love with this mat, and rightfully so. Lululemon created a durable yet comfortable mat that has sensational stickiness that helps you firmly plant your hands and feet despite how sweaty you get. Pricing between $68 and $98 depending on the size, this yoga mat is moderately priced and has all the features you're looking for.
According to the Lululemon website, the mat has a Polyurethane no-slip top layer and a natural rubber base. These two different materials provide one side that absorbs sweat during more intense situations. The natural rubber side is squishier with a textured grip for less intense sessions.
The dimensions of this mat are 26 inches by 71 inches, and 5 millimeters thick (.19 inches). The weight is 5.24 pounds which is heavier than most yoga mats. This is a common complaint among reviews of this yoga mat with yogis saying it is heavy to lug around all day.
Another qualm yogis expressed is that the mat isn't the easiest to wash and some reviews mention sweat stains don't wipe off very well. While this is frustrating, it is a frequent issue people have with most yoga mats so Lululemon still gets my number one slot.
Pros:
Antimicrobial additive
Reversible
Thick and comfortable
High durability
Superior grip and stickiness
Cons:
Heavy to carry
Difficult to wash
Smells at first
IUGA Pro Non-Slip Yoga Mat – Budget pick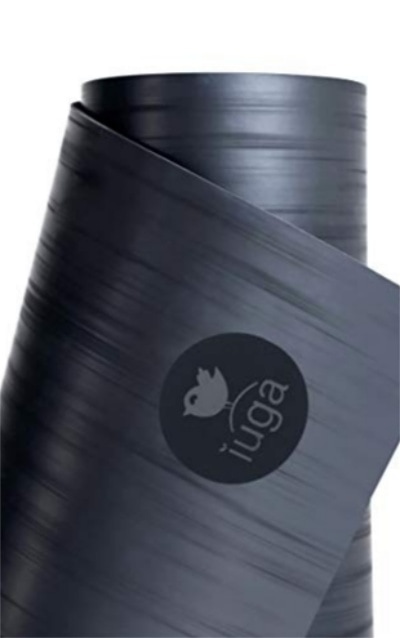 This mat is my top pick for my yogis on a budget! Starting at only $56.95 on Amazon, this mat is inexpensive without compromising quality. So all you college yogis and my fellow frugal shoppers, let's dive into what this mat offers. 
Most of the time when we are shopping on a budget we have to compromise our desire to be eco-friendly, but not with this mat.
The IUGA Pro mat is biodegradable, uses sustainably harvested tree rubber, and it is PVC and latex-free. According to IUGA, this prevents the mat from having any unpleasant chemical smells. The materials are SGS certified, an international inspection agency that focuses on reducing public health risks and improving the quality of products. 
This mat has a polyurethane top layer that absorbs your sweat and is sticky enough to keep you steadily planted in your trickiest poses. Even with all this quality material, the mat only weighs 2.5 pounds making it convenient to carry around.
Despite IUGA's promises, many Amazon reviews state that the mat does have a strong, toxic smell even after trying to clean it. Another repeated complaint is that the mat either doesn't stay rolled up or it doesn't properly unroll. It's no fun flattening the corners of your mat when you're trying to get in your yogi zone.
Pros:
Most affordable
Environmentally conscientious
Lightweight
Decent grip from the textured surface
Available in extra large
Includes carrying strap
Cons:
Chemical smell
Doesn't unroll properly
Difficult to wash
The Liforme Yoga Mat – Alignment System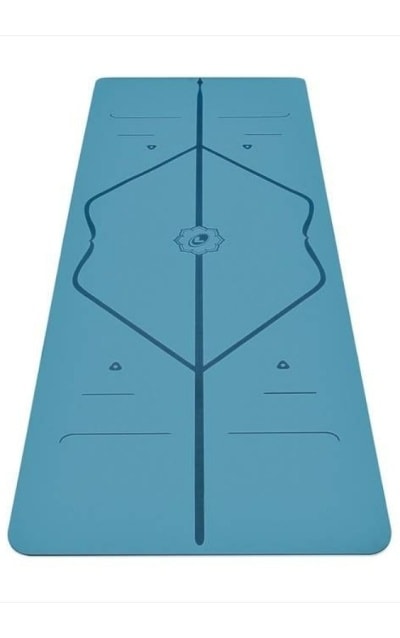 The alignment system in the Liforme mat helps guide you through poses and keeps you perfectly aligned so you get the most out of your yoga session. Liforme's AlignForMe markers are a navigational tool for your Yoga asana practice. The markers offer guidance for when you need it and aren't in the way when you don't. 
Liforme worked tirelessly to create an eco-friendly, PVC-free yoga mat that will naturally break down in 1-5 years under normal landfill conditions. The mat has a natural rubber base with Liforme's eco-polyurethane top surface providing extra cushioning.
The special patented 3 layer construction constitutes their CleanGrip Technology that keeps your mat hygienic and comfortable. The warrior-like grip stops your feet from slipping or the mat from shifting on the floor.
The Liforme mats are a wonderful non-slip choice but do come at a painful price point. The mats sell for around $140, almost double the cost of my number one pick that has just as many benefits. 
Pros:
Environmentally conscientious
Unique alignment system
Larger than most mats
Great grip
Cons:
Yoloha Aura Cork Yoga Mat – Eco-friendly choice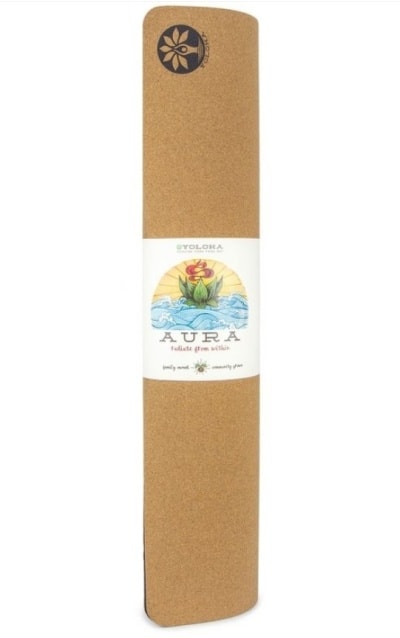 The unique grain cork material of this mat is soft, cushioned, and comfortable and makes the tough poses easier by keeping you steadily on the mat no matter how much you sweat.
Compared to many competitors this yoga mat is insanely lightweight and portable at only 2.8 pounds. My favorite part of this innovative mat is that the cork surface increases in grip the wetter it gets. It's like, the more you sweat, the less you slip. If you are a sweaty yogi like me this sounds like a miracle.
The Aura Cork mat comes in two sizes giving longer yogis a chance to experience the magic of a cork yoga mat. The options are 72 inches by 26 inches or 80 inches by 26 inches with a thickness of 6 millimeters. Ringing up at $79, this mat has a lot to offer and is widely loved by its users. 
Like many eco-friendly options out there, this mat isn't the best for long-term, daily use because it shows wear and tear rather quickly. Cork is all-natural and sometimes that means natural erosion will occur. Another small inconvenience with this mat is that the cork has to be wet to give you a solid grip, but this is easily solved with a bit of water or a grip spray.
Pros:
Environmentally conscientious
100% Vegan
Cork surface
PVC and latex-free
Antimicrobial additive
Cons:
Needs moisture for good grip
Not very durable
B MAT Strong Long – Best for the taller yogi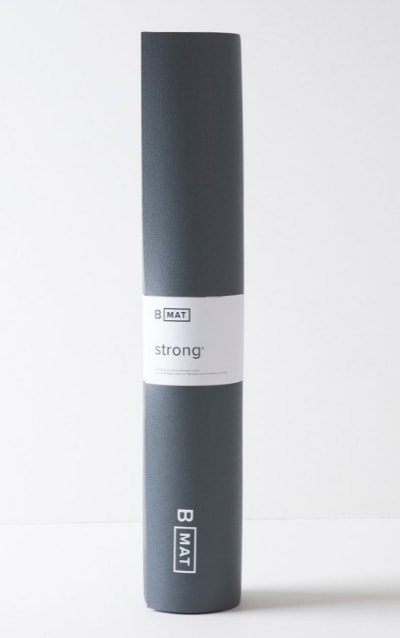 Where are my tall yogis at? I have a fabulous non-slip option for you yogis that struggle to fit on a smaller-sized mat. At a lengthy 85 inches and 6-millimeter thickness, this mat is comfy and lengthy offering support for those with long limbs.
The B Mat costs $104 but has excellent reviews to back it. When it comes to a sticky surface that will prevent slippage, this mat measures up. Reviews describe the mat as super sticky right out of the box making it perfect for those hot yoga classes. 
While the grip is wonderful for those sweaty sessions, if you want a lighter, relaxing session you may find the mat uncomfortably sticky. Another drawback to this mat is the initial smell. It is a toxic scent that goes beyond just the new rubber smell some expect. The smell fades after use and maintenance but is a turn-off right out of the gate.
Pros:
Extra-long
Secure grip
Durable
Environmentally conscientious
Antimicrobial additive
Cons:
Too sticky
Strong rubber/chemical smell
Manduka GRP Adapt Yoga Mat 5mm – Best for hot yoga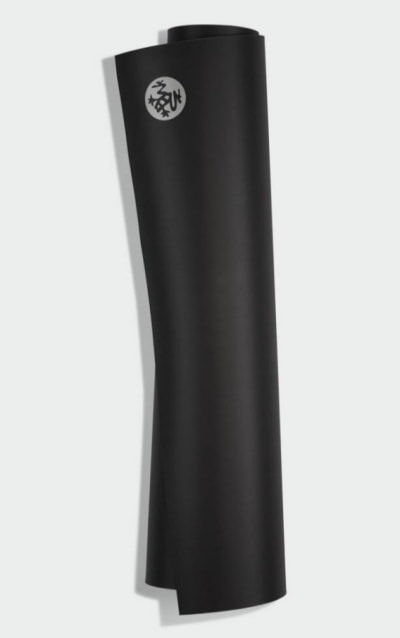 Manduka GRP's Adapt Yoga Mat is a beloved mat for many of its users and is popular these days. But there are long-time dedicated users out there that are still raving about it years after purchasing. 
The mat uses an open-cell polyurethane design and a charcoal-infused rubber center. This combination provides a comfortable, springy surface and an absorbent, odor-reducing center. Many yoga mats use a closed-cell design that causes the mat to become wet and slippery and honestly, dangerous.
The Adapt Yoga Mat is not available right now exemplifying how in-demand it is. But many reviews complain that the mat smells horrendous when they first get it, a running theme with all yoga mats. But at $90 and a guarantee it absorbs twice the moisture of standard mats, the price is easily overlooked for the quality and durability.
Pros:
Long-lasting
Excellent grip
Open-celled polyurethane
Charcoal-infused rubber center
Cons:
Jade Yoga Harmony Mat – Natural rubber option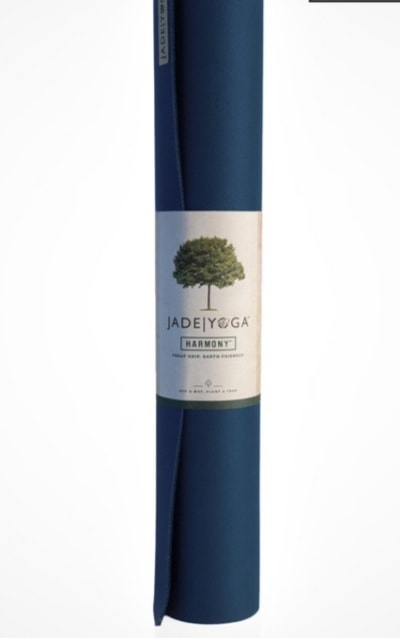 The Harmony Mat by Jade Yoga has excellent traction for intense poses but provides cushioning and stability for those simple standing poses. The mat ranges in size from 68 inches to 74 inches ranging in price from $79.95-$84.95. 
Yogis love the grip this mat provides as well as the wide selection of colors and styles. But a complaint that showed up a few times in my research noted that the mat disintegrates after a lot of use or over a long time. The life of this mat seems to be about two years, which isn't great for a mat that averages about $80.
Pros:
Environmentally conscientious
Variety of sizes
Larger than most mats
Fantastic traction
Cons:
Not very durable
Strong smell
What to Consider When Buying a Non-Slip Yoga Mat
Thickness, Weight, and Size
These specifications differ from yogi to yogi so you have to decide what is right for you. I look for thicker mats because I practice on hard surfaces. And I always opt for standard-size mats because I am a standard-sized person!
Check our article on yoga mat size guide if you don't know which size should you choose.
Material
Figure out what's the best non-slip yoga mat material for you.
Polyurethane on Rubber
This type of rubber is non-toxic, tasteless, non-slip, rot-resistant, and environment-friendly making it an excellent material for yoga mats.
Cork on Rubber/TPE
Cork mats are a combination of natural tree bark is an eco-friendly material that is renewable, biodegradable, and naturally antibacterial. Cork surfaces when moistened provide an excellent grip. To produce a cork yoga mat, most yoga mat producers add the bottom layer of TPE or natural rubber.
Natural Rubber
Similar to cork mats in their renewability, natural rubber derives from the sap of rubber trees. Natural rubber makes the mats a bit heavier but also gives a spongy texture.
Non-slip Surface
Non-slip yoga mats achieve their traction through the various rubbers utilized which offer different levels of grip.
Conclusion
These reasons are why the Lululemon Reversible Yoga Mat is the mat for us serious, sweaty yogis. Slightly pricier than some of the other mats on my list, but worth every penny in my opinion. 
After hours of yoga, this mat is still comfortable and dry. My favorite part and the tipping point that made this my top pick is the antimicrobial additive in the mat. The additive stops bacteria from growing on the mat when it absorbs your sweat. I don't know about you but I like a fungus-free yoga mat.
Your yoga session loses its edge when you can't plant your feet how you're supposed to. So whether you want to blast that heat or practice in the blazing sun, you can have a slip-free yoga experience and get your vinyasas in.
Stop grinding your heels into your yoga mat. Stop worrying you will go hydroplaning into your unsuspecting neighbor at your next hot yoga class. Invest in a non-slip yoga mat for your safety and comfort! The Lululemon Reversible mat is the gift that keeps on giving with every sweaty session as you nail that warrior pose. Go get your new favorite mat!